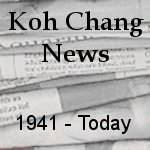 Feb 17, 2003
Scandinavian Tour operators eyed Koh Chang (Chang Island) off Thailand's eastern coast in Trat as a new eco- tourism haven for Scandinavian travelers.
Chuchart Oan-charoen, director of Tourism Authority of Thailand Central Office said the Scandinavian tour operators from Sweden, Denmark, Finland, and Norway recently conducted a survey at Koh Chang in a bid to search for new destination for their clients.
Koh Chang does not have too many facilities to damage its natural charm so it is attractive to tourists from Scandinavia, Chuchart added.
"TAT 's objective is to develop sustainable tourism in Koh Chang by preserving the ecology as well as the livelihood of local community, he said.
Although the number of tourists from Scandinavian countries will be increasing this year, Europeans such as retirees and seniors are the largest targeted group. These people particularly those from France, Germany, and England are long stay tourists and have high purchasing power.
Thailand earns a large amount of revenue from their arrivals, the director said.