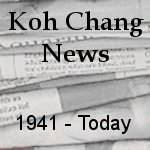 29 July 2003
The state intends building environment-friendly bungalows for high-end tourists on Koh Ngarm, an islet in Koh Chang National Park, following the dismantling of 35 illegal bungalows on the island.
Plodprasop Suraswadi, permanent secretary of natural resources and environment, said: "I want to create examples for villagers by building nature-friendly bungalows with wastewater and garbage treatment facilities. Otherwise, local villagers will develop Koh Chang by using Pattaya and Phuket as role models."
The bungalows will cost about 20 million baht.
Koh Chang, off Trat province, is touted to become the major tourism attraction in the Gulf of Thailand, similar to Phuket in the Andaman Sea.
The government this year gave Koh Chang special administration status, similar to that of Phuket and Pattaya.
Mr Plodprasop said the government would not invest in other resort projects, but would finance infrastructure like wastewater treatment facilities, garbage treatment sites and piers.
Mr Plodprasop unveiled the plan immediately after national park staff and local police dismantled 35 bungalows at Koh Ngarm Resort.
The state charged the owner in 1993 with encroaching on national park land, but he reportedly jumped bail. The operator was ordered on June 27 to vacate the bungalows by July 27.
The ironic thing was that the new bungalows were built, then the original owner took the National Park to court, claiming they illegally took away his land and he was the rightful, legal owner of the island. He won. So now privately owned Anchalay Resort on Koh Ngam, uses the bungalows kindly built by the National Park.