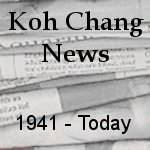 Early 2003
This long forgotten plan dates back to around 2003. The government at the time, headed by Thaksin Shinawatra, had grand designs for Koh Chang. The entire area would be zoned and specific development only permitted within these zones.
How that would affect normal people who held land was never mentioned. But as with all plans for Koh Chang, this died a death.
All we have left is this graphic I saved from the Bangkok Post to remind us of the utopia that could have been.
Koh Chang Development Plan