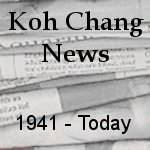 03 December 2003
A pioneering Internet cafe in Ko Chang could be forced to close its business after four years of operation due to fierce price competition on the tourist island.
Somchai Surasit, 51, the owner of the Ko Chang Internet and Relax Internet Center and Resort in Kai Bae Beach, said he used to earn 20,000 baht per day when he first provided the Internet service in 1999, but the earnings have plunged as there are now some 20 Internet cafes on Ko Chang.
"People thought it was a good business because the charges are higher than the service on the mainland, where prices are around 30 baht an hour, so they set up an Internet cafe on Ko Chang and we competed on price," he noted.
Four years ago, his Internet service cost eight baht a minute or 480 baht for an hour of broadband Internet access of 256kbps via satellite.
"We invested around 30,000 baht a month. It was a high cost, but we wanted to provide Internet access for foreign visitors so we invested in the connection, a building as well as a LAN for ten computers," he pointed out.
Since his business was the first on the island, many visitors from other parts of the island visited his shop for the service. Some even paid a 100 baht taxi fare just to use his Internet access.
"We opened the service around Christmas in 1999. Although the price was eight baht a minute, customers were happy to pay for their communication," he said.
In later years more Internet cafes arrived as well as telephone infrastructure from the TOT. Some Internet cafes offer prices as low as one baht a minute.
"Our earning were reduced because of the fierce price competition. Some visitors are willing to wait for a slow link in order to pay less," he noted.
To improve his competitiveness, he changed from the ThaiCom service to Internet Turbo and later to iPSTAR, for which he paid 3,000 baht per month for a 256Kbps/128Kbps satellite link.
Although his monthly payments went down, his charges could still not beat the one-baht per minute service.
Some visitors are willing to pay the three baht a minute to get fast service, he said, adding that for this reason the satellite connection was still his choice. However, its service quality depends on weather condition.
"The signal is not good during the monsoon season. When it rains heavily, I pray that the connection will still be good otherwise customers might not pay for their usage time," he said.
At present, his family can no longer earn their living via Internet service alone. As a result he has redecorated parts of his Internet shops to sell books, drinks and offer video rental services, and he has also built bungalows.
"We invested around four million baht in the two Internet cafes and so far we have not yet got the return on investment. I am considering closing the Internet service in the future," he said.