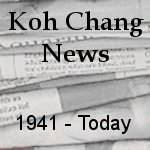 Apr 18, 2003
With the official commencement of flights between Bangkok and Trat today, business operators on Koh Chang expressed high hopes that the newly opened Trat Airport would provide a welcome boost in tourists to the island.
Resort and hotel owners on Koh Chang agreed that the Bangkok-Trat route would help increase occupancy rates. The number of tourists travelling to Koh Chang has declined in recent months.
"Trat Airport offers new hope for the tourism sector [in Koh Chang]," Sakol Sunate, president of Trat Tourist Association, said during the opening ceremony for the airport late last month.
The new airport is the third in Thailand to be managed by a private airline – Bangkok Airways, which also runs Samui and Sukhothai airports.
Bangkok Airways CEO Prasert Prasarttong-Osoth said that the airline also planned to offer direct flights connecting Trat with Samui and Phuket.
Koh Chang will be also linked to other destinations flown by Bangkok Airways, which is offering a "Discovery Airpass" package to travellers. This special promotion, which runs until April 15 next year, will offer eligible travellers up to 50-per-cent off standard ticket prices.
Discovery Airpass travellers are required to purchase a minimum of three coupons (up to a maximum of six), with each coupon redeemable for one Bangkok Airways flight. The first flight must be confirmed upon purchase of the Discovery Airpass, while other flights can be left open and booked later.
The price per coupon is US$50 (Bt2,150) for adults and US$25 (Bt1,075) for children.
Travellers can chose between any of 15 routes flown by the airline, but are limited to domestic routes in Cambodia and Thailand, a sales representative said.
For example, if a traveller chooses to fly Bangkok-Phuket-Bangkok, then Bangkok-Trat-Bangkok, he will have to pay for four coupons worth US$200 (Bt8,600).
Separately, the Trat Tourism Association president said the country's largest food processor, Charoen Pokphand Group, is planning to build a fruit storage facility on Koh Haad Sai Kheow, an island near Koh Chang.
Sakol said pineapples and mangosteens would be promoted among tourists, to help differentiate Trat from other destinations such as Phuket.
Although usable land on Koh Chang is now less than 10 per cent of the total island, up to Bt1 billion in new investments is expected this year, with over 20 new resorts being built. The number of available rooms is expected to rise by up to 3,000 rooms this year.
Visitors didnt rush to fly here – possibly due to high prices for flights. Bangkok Airways flights are often virtually empty outside the peak season. Hard to believe that a company would build a fruit storage facility on a small island they own which is home to a private resort – and they didn't. 'Pineapples and mangosteens would be promoted among tourists, to help differentiate Trat from other destinations such as Phuket.' As attractions go, I don't think promoting an abundance of pineapples will increase visitor numbers dramatically.