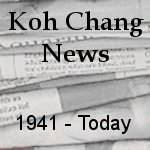 8 May, 2003
Plodprasop: Three trespassers charged
More than 600 rai of forest and seashore on Koh Chang have been taken illegally by developers, upsetting the prime minister's plan to turn the eastern resort island into an upmarket tourist destination.
Forestry staff have found at least 11 areas, including Koh Chang marine national park and a mangrove forest, where developers have trespassed on public land.
Natural resources and environment permanent secretary Plodprasop Suraswadi said many trees had been cut down.
"Two trespassers have apparently encroached on the national park and one has entered the mangrove forest," he said after an inspection of encroached areas yesterday.
He had already brought charges of encroachment against the three people.
Mr Plodprasop said he would ask a panel to investigate another eight areas where land had been taken over in forests outside the national park.
They included Ban Wai Chaek, a seaside area in the southwest of the island, where 400 rai had been encroached on. Yesterday scores of armed forestry staff, inspecting the areas had to cut their way through barbed wire before they could enter the land.
Ban Wai Chaek is near an area where the government plans to build a nine-kilometre bicycle lane.
This had evidently drawn the attention of a developer, who owns land near the sea. He had extended his land to take the boundary closer to the bike lane, Mr Plodprasop said.
He declined to identify the trespassers, but said half were investors and the rest were villagers.
The government wants to turn Koh Chang into a so-called eco-tourist destination.
Mr Plodprasop, also chairman of a committee working on a plan to develop Koh Chang, said he was waiting for a law controlling development.
He did not want the island to turn into another Pattaya beach resort, where ecotourism does not exist. He expected the bill to be passed by parliament this year.
However, a recent survey among villagers on the development surprised him. "Around 50% want to see Koh Chang develop like Phuket beach resort [which followed the development in Pattaya]," he said.
No bill ever passed. Wai Chaek Beach is still undeveloped and very hard to reach. Although when you go there it is a bit strange that you drive through a grass plain, when you'd expect to see trees.