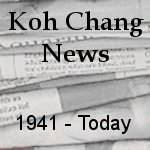 Feb 17, 2002
Koh Chang residents fear development model will damage their island home.
Can Phuket serve as a development model for Koh Chang? The question is relevant now that the Cabinet has approved about Bt500 million to turn Koh Chang into the second "Pearl of the Andaman".
The news is generally welcome for people in the tourism industry, including Koh Chang's residents involved in small-scale tourism operations. But residents oppose the idea that the Phuket model is the right path to follow.
Almost all the island's people are happy their homeland is going to be upgraded, but they do not agree that it is good for the island to grow into a second Phuket.
"Phuket is too urban to be the future for Koh Chang, which is still in pristine condition when it comes to natural resources," said 35-year-old Vittaya Noppawat, who has spent all his life on the island.
Many local residents interviewed by The Nation agreed in principle that Koh Chang needed a programme to make it cleaner and bring more discipline to its development. They are afraid that without a development plan, Koh Chang might repeat the mistakes of Rayong's Koh Samet, which is fast becoming lost to tourism.
On Koh Samet, tourist accommodation has mushroomed all over the island, and on beachfronts in particular, without any orderly or appropriate design. A senior official of the province's City Planing Division likened the construction on the island to a "slum resort".
However, following the Phuket model is not the right answer as far as Koh Chang island residents are concerned.
For Vittaya, when talking about Phuket he always thinks of large high-rise hotels located too close to beachfronts – most of which are already polluted – while entertainment venues mushroom throughout the city.
Having run his own resort for five years on part of his own 16 rai of land, Vittaya has heard from many farang tourists about both the positive and negative sides to Phuket and other coastal tourist destinations.
Like many of Koh Chang's 6,000 villagers, Vittaya wants his island to be developed in a way that fits its unique character. His chief concern is the island's natural resources, which he stresses should not be damaged by development projects.
"I agree with luxury accommodation being built here, but it has to come in a natural form, not higher than the top of the trees and not on the beachfronts," he said. For him, a five-star resort is an acceptable alternative for tourists who yearn for high-grade facilities, as long as these conditions are met.
Tee, a songtheaw driver, said he was happy that a road construction project was going to be completed. One thing he opposes, however, is the plan for a passenger/car ferry – a private-sector project being developed in parallel with the government's own plan.
"When people can drive here, they will have no need to use our services. I don't know how can I survive in the face of this tourism promotion," said the 27-year-old.
The songtheaw is a pickup truck installed with two rows of seats so that it can be used as a taxi. There are around 60 of them on Koh Chang. Tee said songtheaw drivers depended on backpackers who visit the island with heavy luggage.
Virat Iamkul, a 45-year-old fisherman, said every weekend he generated the bulk of his income from tourists who visit the island and ask him to take them on a snorkelling trip to small nearby islands.
He is afraid that the new-look Koh Chang will not only attract tourists, but also outside businessmen who will come to the island with their big, modern boats.
"If tourists have a better choice, they will not support us," he said.
Vittaya confirmed these fears, saying that some two months ago, a large boat from Pattaya moved to the island and its extensive service was attracting many tourists.
Vittaya, Tee and Virat are just three of many local residents who told The Nation they are concerned about the future of their homeland.
Their main worry is that the development of Koh Chang should not repeat the mistakes of Phuket, nor restrict their opportunity to benefit from tourism promotion.
Nice quote: "If tourists have a better choice, they will not support us," the obvious solution being not to give them a choice, rather than to improve the existing service being offered. Somehow the songtaew drivers still survive despite the advent of car ferries, and also make a very good living 0ut of overcharging tourists.