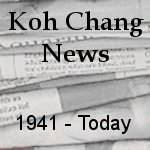 22 Oct 2001
Prime Minister Thaksin Shinawatra is so impressed with the natural beauty of Koh Chang he wants the island to become a popular eco-tourism destination like Phuket.
Gen Chaisuek Ketudat, inspector-general of the Defence Ministry, said the prime minister became fascinated with Koh Chang's beauty during a personal trip to Trat province.
Gen Chaisuek was assigned to select and oversee 50 army generals from those who applied to join the prime minister's advisory staff at Ban Phitsanulok. Mr Thaksin wants the advisory team to promote tourism in military areas and specifically promote Koh Chang.
Some of the military advisers would be assigned to deal with complaint letters sent directly to the prime minister and about 4,000 messages sent daily through the premier's website.
The generals would begin work at Ban Phitsanulok from Nov 1. The selection process would be completed this week and those selected would undergo a three-day training course before being assigned to various duties.
What no-one knew at the time was that members of the government had already snapped up a lot of land on the island prior to the decision to develop it. The first luxury resort, Aiyapura, allegedly indirectly owned by PM Thaksin, opened in mid-2002.