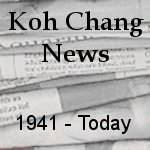 Jan 23, 2002
The Interior Ministry is to designate Koh Chang in Trat province as a special administrative jurisdiction, a source said yesterday.
A feasibility study committee, chaired by Plodprasop Suraswadi, Royal Forestry Department director-general, had been set up to look into the issue, the source said.
The ministry expected that a special administrative body, which could be a form of municipality, would be more capable of developing the island into a major tourist destination while keeping its environmental condition in good shape.
To prevent the island from being flooded with tourists once tourism infrastructure was fully developed, prices might be used as a mechanism to limit the number of people that would visit the island, the source said.
——————————
Island expects 400,000 visitors this year
Tourism to Koh Chang, Thailand's third-largest island, started more than 16 years ago with a few foreign backpackers from Khao San Road who wanted to go somewhere other than the two well-known islands of Samui and Phuket.
They found a paradise of virgin beaches and beautiful scenery which, being surrounded by 52 smaller islands, gave it a reputation of being the "Maldives of Thailand".
However, a lack of infrastructure meant that the development of tourism on the island lagged far behind that of Phuket, which has many luxury hotels, and Koh Samui, which is rapidly developing a global reputation.
Phuket, Thailand's largest island, receives more than 3 million tourists a year and Samui nearly 1 million. By comparison, just over 300,000 people visited Koh Chang last year.
One advantage of Koh Chang's slow development has been that its beaches have remained in pristine condition, with very little noise or pollution.
Tourism to Koh Chang got a boost three years ago from the completion of four-lane highway from Bangkok, and a further boost is due later this year after the construction of an airport.
Bangkok Airways, owner of the airport, intends to set up an air network between Phuket, Koh Samui and Koh Chang.
Development of Koh Chang is part of the government's economic stimulus measures now awaiting Cabinet approval.
Poramet Amatyakul, Tourism Authority of Thailand (TAT)'s Trat office director, predicted the number of tourists visiting Koh Chang would reach 400,000 this year, and that income from tourism would reach Bt2 billion, compared to Bt1.5 billion last year.
About 60,000 of the island's visitors last year were from abroad and their average length of stay was about eight days, he said.
——————————
Big buck paradise
In marketing terms, Koh Chang offers an alternative to the more popular islands of Phuket and Samui. On the other hand, the amount of land available for development is limited because the Royal Forestry Department controls 75 per cent of the island. Choosak Jirasakunthai visits to see if it really can become the new Phuket.
The possibility that Koh Chang could imitate many aspects of Phuket and become a thriving tourist destination with a similar international reputation has certainly fired the imaginations of many.
A government committee has already started work on a development concept for Koh Chang, planning to make it as unique in its appeal as Phuket or Koh Samui. Its plan is due to be submitted for Cabinet approval at the end of February.
So what exactly can Koh Chang offer that the other islands do not? For marketing purposes, it needs to find unique selling points that differentiate it from the "tropical paradises" of Phuket and Koh Samui.
Beautiful beaches, luxury hotels and well-heeled visitors are the symbols of Phuket, while monkeys, coconut trees, beach parties and backpackers are some of the icons of Koh Samui.
And Koh Chang? Bicycles, forests, and surrounding small islands, as well as outdoor sports and adventure activities are suggested as the key selling points.
However, for legal reasons the island has limited space for development as some 75 per cent of it is owned by Royal Forestry Department.
The government, with 75 per-cent "control", therefore has a duty to preserve the island's natural beauty. At the same time, it wants to maximise the island's potential as a prime tourist destination.
To set it apart from Phuket and Koh Samui, the concepts of eco-tourism and adventure tourism are being adopted as one of the main "directions" for the island's development, according to the plan.
Sakol Sunet, president of Trat Tourist Association and a member of the government's Koh Chang development committee, said the implementation of the plan would transform the destination.
The government will invest up to Bt4 billion in the island, mainly in infrastructure such as roads and water systems.
Sakol said that one of the most outstanding aspects of Koh Chang was the number of bicycles, which outstrip the number of motorcycles. "Bicycles will be the main form of transport on the island", he said.
While three quarters of the island is owned by the Forestry Department, about 10 per cent is owned by local people, with the remaining 15 per cent taken up by tourism operators.
Therefore, in theory, it should be easy for the government to control tourism development while preserving the island's natural habitat.
Due to the limited amount of land owned by private investors, Koh Chang has the capacity to serve just one million tourists per year, Sakol said.
Last year, more than 300,000 tourists visited Koh Chang and surrounding islands, compared with more than three million who visited Phuket and about one million who travelled to Koh Samui.
The number of hotel rooms in Koh Chang will also be limited. About 2,000 new rooms could be added, bringing the total number to not more than 4,000.
For investors, Koh Chang is likely to be a safe place to invest. And to fulfill the plan of making it a prime destination similar to Phuket, the island will need a huge amount of private investment.
Trat's first airport is due to be opened late this year by privately run Bangkok Airways. Unlike Phuket or Koh Samui, there are currently no five-star hotels on Koh Chang to serve high-end tourists.
However, the first five-star hotel, World Residence, is scheduled to open in March. The first international hotel chain is expected to come to the island soon.
Aside from investment, good management will also be needed. The development committee is considering a management system for Koh Chang that would be different to that in Bangkok or Pattaya.
However, while everything is likely to be well planned, land speculation is moving faster than the government can act.
Land dealing is the hottest business on Koh Chang. The price of land is now more than two times higher than it was early last year. But no matter how high the price, it seems investors are prepared to pay as they are hunt for the prime pieces of real estate – and there is not much left.
On some beaches, the land rose to Bt5 million per rai, compared to Bt1.5 million before the government announced its development plan.
This is not the first time that land prices on Koh Chang have been boosted by speculation. Several years ago they were also manipulated by speculators.
Juthamas Siriwan, Tourism Authority of Thailand (TAT) acting governor, said that Koh Chang would not be the same as Phuket.
The government would like to lift the reputation of Koh Chang as a prime destination similar to Phuket, but did not want it to imitate all aspects of Phuket.
Juthamas said reports about Koh Chang's impending development were released too early and caused the widespread land price increases on the island.
With tourism in the province the centre of attention and receiving strong support from government, the Trat Chamber of Commerce is also seeking support from the government for the area's bigger business: border trading.
Surajak Srisatchang, of the Trat Chamber of Commerce, said the tourism industry provided business for the province for just six months out of the year and generated only about Bt1.5 billion.
He called on the government to look at the bigger business opportunity for Trat, border trade between Thailand and Cambodia.
Last year, border trade generated up to Bt6 billion for the province, a significantly larger figure than tourism.
Surajak said that the government should open two more border-trade checkpoints to boost trade activity.
As predictions go this one: "Bicycles will be the main form of transport on the island" seemed the most deluded at the time to anyone who had seen the island's topography. The limit on hotel rooms never happened. For anyone looking for land here now, this article indicates why you wont find anything cheap on Koh Chang anymore. World Residence is the name of an apartment complex in Bangkok, I guess it was the working name for the Aiyapura – the first luxury resort here.