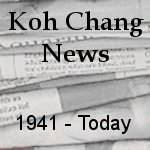 2 December 2002
Knowledge about biodiversity is crucial to the development of tourism, the country's major source of foreign income. Really.
However, not everybody realises that. So recently a number of leading scientists , namely, Prof Visut Baimai of the Biodiversity Research and Training Programme (BRT), Prof Kanchanaparch Lewmanomon of Kasetsart University, Dr Thaweesakdi Boonkerd of Chulalongkorn University, Dr Sompoad Srikosamatara of Mahidol University and Dr Chaweewan Hutacharoen of the Forest Department , held an academic discussion to explain how such knowledge could help the government's tourism development plan for Koh Chang to become genuinely sustainable.
Other than the beaches for which Koh Chang and the nearby islets are already famous, this archipelago off Trat province is also rich in flora and fauna which, through proper promotion and conservation, could serve as travel highlights for visitors. The scientists cited fireflies as an example.
The light-emitting insects are still thriving at some of the island's remaining mangrove forests. Watching their romantic light displays on a small boat would be a memorable experience for tourists and the trips would create extra income for local fishermen at the same time.
Some might think building wooden walkways into the mangrove forests for the purpose would also be a nice idea, but according to Dr Chaweewan, that wouldn't be good for the ecosystem as the construction would require cutting trees.
Besides, firefly larvae feed on snails. If these snails and their mushy habitats are stomped flat under the feet of construction workers, the fireflies aren't going to survive.
She also added that planting more trees in degraded mangrove forests doesn't necessarily mean the number of fireflies in the area will increase too, unless you plant the right species of trees.
Trees with large leaves, she explained, hinder the fireflies' light signals. Their special means of communication is more effective in airy foliage.
See the importance of biodiversity knowledge?
The scientists have made it clear that they are eager to help in the tourism development plan of Koh Chang. However, as of now they have no idea whether the government will include them in the special public organisation that will be set up soon to enforce the plan.