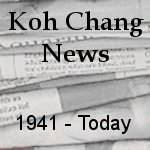 Jun 25, 2002
The private sector yesterday voiced support for the government's plan to establish an independent body to manage tourism on Koh Chang, but warned against discrimination against certain groups of tourists.
Sakon Sunet, the chairman of the Trat Tourism Association and the deputy chairman of the Trat Chamber of Commerce, said the independent body would coordinate all development efforts on the Koh Chang group.
"I agree with the idea because it will be a real driving force for the development of Koh Chang and nearby localities," he said.
There are more than 50 islands in the Koh Chang group.
According to the government plan, tourism experts and local administrative bodies will have a role in the new body, which will serve as a one-stop service centre for tourism development.
For example, a company could seek a licence to operate ferry services to Koh Chang from the committee instead of submitting applications to the Harbour Department. The independent organisation would then cooperate with the Harbour Department on the issue.
Sakon said the new body was likely to work like a public limited company with CEO-style management.
However, he objected to the government's idea of targeting only certain groups of tourists, particularly the rich. He said that the zoning plan should identify which areas were for tourists seeking simplicity and which were for the more luxury-minded.
"I also think we don't need a regulation to limit the number of tourists as the room capacity at hotels and resorts will serve this purpose," Sakon said.
Trat Provincial Administrative Organisation chairman Wichien Charoensap said Koh Chang should be open to tourists with medium-sized budgets because accommodation rates on Phuket were already unaffordable for many local people.
"We've already lost Phuket, so please keep Koh Chang for Thais," he said.
PM's Office Minister Somsak Thapsutin has said that he wanted to make Koh Chang a destination for high-end tourists because of the economic and environmental advantages of exclusive development.
"Tourists with lots of money will enhance Koh Chang's economy. It will also give Koh Chang a unique selling point. It will be totally unlike Koh Samui where backpackers are everywhere," he said.
Public Health Minister Sudarat Keyuraphan said her ministry would cooperate with tambon administrative organisations to develop medical services and hygienic standards on the island.
The organisation that was set up to oversee Koh Chang's development was DASTA. Mentioned in several other news articles due to it's ineptitude. One of my favourite quotes: "Tourists with lots of money will enhance Koh Chang's economy. It will also give Koh Chang a unique selling point. It will be totally unlike Koh Samui where backpackers are everywhere."