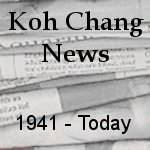 June 21, 2002
Forestry Department director-general Plodprasop Suraswadi yesterday floated a proposal to invest Bt4 billion to turn Koh Chang and 52 islands in its vicinity into an eco-tourism attraction to be called "The Lost World".
He said the destination off the coast of Trat province could be marketed as being as luxurious as the Maldives in the Indian Ocean.
Plodprasop said he was forwarding his idea for Cabinet approval. With Cabinet and House approval, an executive decree could be issued to give special autonomy to Koh Chang and its environs under the Public Organisation Act.
Plodprasop said a special governing system was needed to stop forest encroachment, as the Forestry Act has been unable to stop land-grabbing on the islands.
Zoning was needed to preserve the natural beauty of the islands, Plodprasop said. Controls on the numbers of cars, buildings and tourists must be in place, he said.
"The islands have the potential to be developed like the Maldives. Some of the islands, such as Koh Kut, are still covered with virgin forest, and can be marketed as a 'Lost World', giving tourists the experience of Stone Age living. An undersea museum could also be constructed there," he said.
Villagers who have title-deeds for land on the island would get compensation to stop them selling the land to developers. Tourists would be able to experience how villagers such as fishermen live.
Wow. An undersea museum. But, that didn't happen. None of the plans happened.