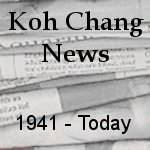 12 February 2002
Ko Chang or Elephant Island, in the eastern province of Trat is being developed into a popular long-stay tourist site in Thailand. The Ministry of Public Health has opened a hospital on Ko Chang in response to the government policy of promoting this scenic island as a world-class tourist destination. Ko Chang is the second largest island in Thailand, after Phuket in the South.
The opening of the Ko Chang Hospital on 9 February 2002 was presided over by Public Health Minister Sudarat Keyuraphun. The Minister said that Ko Chang is a major tourist attraction, with 240,000 to 460,000 Thai and international tourist arrivals annually. This number is 77 times higher than the population on this scenic island. There are also about 2,000 Thai people visiting Ko Chang each year for seasonal employment. With the great number of people, Ko Chang will be affected by environmental degradation, if no well-planned strategy is adopted to deal with the problem.
For this reason, Mrs. Sudarat said that the Government has incorporated the public health policy into the Ko Chang Development Plan. The policy will assure all visitors as well as the locals that the pristine nature there will endure. She supports the promotion of Ko Chang as a long-stay destination at the world-class level, while preserving the environment. To help boost the island, the Ministry of Public Health has come up with some measures. For instance, Ko Chang will be turned into a rabies-free zone. The Ministry will join hands with the Department of Livestock Development in vaccination against rabies on this island. There has been no report about rabies cases on Ko Chang for four years now.
The Ministry of Public Health will launch a "clean food and good taste" project on Ko Chang. The project will ensure that restaurants and food stalls on the island will have an accepted standard of hygiene. Moreover, food available there will be delicious and safe for consumption. Another measure seeks to improve traditional Thai massage service on Ko Chang. Traditional massage is very popular among tourists. The Ministry will provide proper training for traditional masseurs and masseuses and register them in order to control the quality of the service. The registration will protect tourists from being cheated by unscrupulous masseurs and masseuses.
As for long-stay accommodation, the Ministry of Public Health will join forces with the Tourism Authority of Thailand in developing four sites for long-stay visitors on Ko Chang and its vicinity. The four sites include Ban Salak Phet, Ban Salak Khok, Ban Bang Bao, and Ko Rang. The project will also expand to Ko Kut, the second largest island in Trat after Ko Chang. Ko Kut offers picturesque views of coconut groves and beautiful beaches.
According to the Trat Provincial Public Health Office, apart from the Ko Chang Hospital with 30 beds, this island also has a community health center to provide medical services for local people as well as tourists. The number of citizens on Ko Chang is 4,600, and most of them are found to be healthy. There are about 23 out-patients and two in-patients a day.
Ko Chang is a mountainous island rich in forests. Along the plateau and beaches are fruit and coconut plantations. Swimming, sun bathing, and scuba diving in the coral reef are among popular activities there. The Ministry of Interior has a plan to develop Ko Chang into a special administrative zone for tourism promotion and effective environmental management. A law will be issued to introduce the new administrative form for Ko Chang. This island will also be developed into a world-renowned beach resort, the "Phuket of the East."