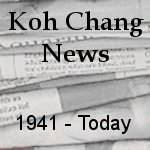 Dec 30, 2001
A small library on Koh Chang is providing a window on the outside world for sea gypsy people in the hopes that a love of learning will take root-and grow
If you're a bookworm who happens to love nature, the Sea Gypsy Library on Koh Chang island in Trat province is the ideal place. Just lift your eyes from your favourite book, and you might think you were in paradise.
An azure sky mirrors the shimmering sea with small fishing boats near the horizon. Up closer, coconut trees dance endlessly with the breezes, providing tranquil shade for the sea gypsy huts on the white sandy beaches.
Although Koh Chang is a well-known tourist destination, the library is not primarily aimed at being a restful place for visitors. It has a far more serious purpose: To teach underprivileged kids in Koh Chang the joy of reading.
"I love coming here in the evening," said Janjira Ngamdee, who is 10 years old and a regular visitor to the Sea Gypsy Library.
"My favourite place is on the lower part of the stairs where I can dip my feet in the cool water and read. I also love seeing the sunset before going home."
The brainchild of Chalermphol Puangthong, head of the Koh Chang Informal Educational Service Centre, the Sea Gypsy Library was established in 1999, and housed in the home of Lawan Jiamkul and her husband, who built the bookshelves.
The simple, wooden verandah serves as a reading area for readers to sit or even lie down as if they were reading at home.
"That is exactly what we want people to feel," said Lawan. "They can spend time reading here-as long as they want. They can doze off or watch television."
"Reading is a good habit and it would be great if all the villagers would read at least one hour a day," she said.
Her main target is the sea gypsy children.
"Trapped on the island, we sea gypsies have little chance to expose ourselves to the outside world. But books can help broaden our minds and open our eyes," she said.
When Chalermphol approached Lawan and explained what he wanted to do for her community, she immediately agreed to help.
"Most of the sea gypsy kids are born into poor families and their parents can't afford schooling. If there was an informal classroom, like a library, in our community, the kids would have a better chance to learn new things," said Lawan.
A nature lover, Chalermphol recalled what made him set up the first library here.
"During my survey on Koh Chang to collect information for my work, I came across Lawan's house and was impressed with the picturesque surroundings. I ended up staying overnight there," he said.
Chalermphol learned that most sea gypsies have little formal education-or none at all. Though most adults completed the Prathom 4 level, some remain illiterate. Many families still feel formal education is irrelevant to their way of life. To learn the tricks of the sea gypsy trade, the children follow their parents out to sea or stay home playing with their friends.
What he saw saddened him, yet also inspired him to do something for the sea gypsy community. With large-scale, formal education beyond his capabilities, he began with what he could do to allow local people to enrich themselves with the wealth of knowledge offered by books.
"Unlike other public libraries, ours is very simple. I told the villagers that it's not a beautiful building we want, but the quality of the books instead," he said.
Chalermphol began from scratch. With no budget to buy new books, he visited friends and asked them for their old books. He also took old books from the provincial library.
"I would like to buy new books but it's impossible. I told Lawan that although the books are old, their contents are not. The knowledge and ideas in them are still applicable. And she understood," he said.
When the first batch of some 100 donated, time-worn copies were transported to the newly-built library, Chalermphol named it the "Sea Gypsy Library". It currently serves the whole community.
The library opens at 8 am and closes at 9 pm. On average, there are some 20 visitors a day, most of them sea gypsy children.
"There are different kinds of books at the library. I love reading English conversation textbooks. There are many foreign tourists visiting my community so I can communicate with them if they need some help or ask for directions," said Janjira.
Books on mathematics are also a favourite. "It helps improve my maths," she explained.
Situated at the mouth of the sea where fishing boats pass, the library is very crowded during the fishing season.
"It's convenient for fishermen to stop at the library before going out to the sea. They can read books when they are free from their work," said Lawan.
As one of the country's popular tourist attractions, Koh Chang now welcomes a legion of travellers, and the Sea Gypsy Library has become a frequently-visited spot.
"We need English books for our library. Often, the tourists donate their books to us. Sometimes, they send more after they go back home to their own countries. I am grateful to all of them who have helped to support my project," said Chalermphol.
Thai tourists, too, have also sent several books and publications to the library.
"It's a good thing to give the villagers a place to get news and information," said Nattakit Kongpattanachaicharoen, a Thai tourist.
"I, too, plan to send my old, good books to this library."
The library now has some 600 books on subjects as varied as politics, economics, language, cuisine, agriculture, dhamma, tourism, fashion, philosophy, novels, entertainment. Cookbooks and career magazines are popular among the adults while children enjoy reading comics, novels, features, and material on tourism.
At the Sea Gypsy Library, there is no charge for borrowing books, and there is no deadline for returning them.
"Having too many rules conflicts with our way of life. So there are no rules. Everything is done in the local style. And it goes well with our simple way of life," explained Lawan.
Although the lack of rules ends up with the loss of books, Lawan is optimistic.
"It's not a loss. It's a gain. They actually like reading those books. I am sure that the books are useful to villagers who are keeping them."
Apart from providing a wealth of knowledge, the library also functions as a gathering place where people of all ages can come to visit and share their experiences. In addition, it serves as a bridge between the local people and city dwellers.
"Some villagers learn what is going on outside their community from those tourists. The outsiders, those who have better opportunities in life, learn to understand the locals. And that understanding leads to a desire to help," said Chalermphol.
A bookworm himself, Chalermphol recalled that his father fostered the reading habit in him from the time he was a child.
"Books help me to be well-rounded," he said.
Some of his childhood favourites were Ramayana, Sri Tanondchai, Khun Chang Khun Phan, Phra Apai Manee and Sam Kok.
"Each book taught me different lessons that I could apply in real life."
Chalermphol plans to set up the Sea Gypsy Library Foundation and expand the community library to other localities in the province.
"My ultimate goal is to set up a library in every village. Those who have no chance of going to school will be able to educate themselves through reading.
"I believe regular reading leads to the development of the brain and sharpens one's mind. It also keeps one abreast of the fast-moving world.
"I enjoy reading and I want everyone to enjoy the experience," he said.