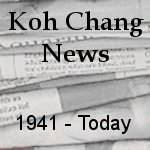 Jan 2, 2002

An Irishman was killed in a fire that engulfed a row of beach huts in an eastern Thai resort popular among backpackers, police said today.
Jerrey Gerard Scanlon, 29, was found dead in the ashes of the huts that burned down at about 4am Saturday (9pm Friday Irish time) at the Saengtawan resort, White Sand beach, in Koh Chang, police said.
Police Lieutenant Colonel Siamrat Rungruang quoted Mr Scanlon's friends as saying that they had carried him to his hut in a drunken state that night.
"The victim was said to have been heavily drunk and he may have inhaled smoke and become unconscious," Lt Col Siamrat said from Koh Chang, about 170 miles east of Bangkok.
He said seven of the bamboo and thatch huts, each big enough for one person, were burned down. The occupants of the other huts escaped and there were no injuries, police said.
Police said the fire might have started from a burning cigarette dropped by a tourist in one of the other huts.
Koh Chang, a notorious malaria infested island near Cambodia, is one of the most popular backpacker destinations in Thailand.
From the good old days when White Sand beach was considered a backpacker hangout.