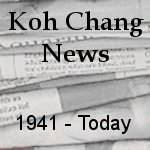 2 August 2002
PM's aide calls for end to survey after top resort accused of encroachment
A House committee that discovered a well-known resort on Koh Chang was encroaching on the sea was asked to drop its study of possible land and sea encroachment on the island by the deputy secretary-general to the prime minister, a member of parliament said yesterday.
The House committee on the environment and natural resources received a letter from Lt-General Preecha Wannarat, deputy secretary-general to the prime minister, asking it to drop its study, MP Boonsong Kaiket said. The committee recently found that the Aiyapuri Resort Hotel, Klong Son encroached on the sea, as its breakwater extends 20 metres out from the shoreline, he said.
Prime Minister Thaksin Shinawatra and government ministers stayed at the resort hotel during a mobile Cabinet meeting in June.
Boonsong said the committee's findings on the resort were based on a land survey conducted by Chulalongkorn University's Engineering Faculty.
The survey of the shoreline of the island, commissioned by the committee, used data from on-site inspections, satellite imagery and the global positioning system.
The House committee also suspected that the resort owner might have encroached on 15-rai of land believed to be inside a national park.
The resort owner had land right certificates to two separate plots but he appears to have laid claim to, and developed, national parkland separating his two plots, Boonsong said.
MP Theera Salakphet said Forestry Department director-general Plodprasop Suraswadi had testified to the committee that the resort hotel development had encroached on the sea, forest and Navy-owned land. Theera called on the government to take action and solve the problem of encroachment on public land on the island.