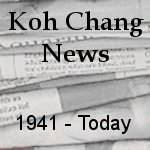 Mar 29, 2002
Senate panel to quiz government next week over its plan to turn the island into a resort for wealthy tourists.
A Senate committee yesterday threatened to grill the government over alleged irregularities in the development of Koh Chang as a major tourism spot.
A panellist also threatened to name prime ministerial aides who allegedly acquired land there.
The Senate committee on tourism made the threat after a hearing at which a representative from the National Economic and Social Development Board explained how the Bt6.2-billion fund to promote tourism would be spent.
Board representative Panithan Yamwinij told the Senate panel the Koh Chang project was different from other tourism projects, which were proposed by local officials. Panithan said the island's development had been proposed by the national government.
The government has unveiled a plan to develop the public island as a resort for well-heeled foreign tourists in a bid to earn hard currency.
Panithan said the development of Koh Chang would utilise money from the Bt58-billion economic stimulus fund, not the Bt6.2-billion tourism fund.
Nakhon Sawan Senator Prasit Pithoonkijja – deputy chairman of the Senate committee – said he had learnt from residents of the island that certain close aides of the prime minister had acquired land on Koh Chang at the rate of Bt200,000 per rai.
"Now, the land prices will go up to Bt3-5 million a rai, and even to Bt10 million a rai after development," Prasit said.
"Koh Chang is already well known among foreign tourists so I don't understand why it would need the money for development."
Prasit said he would reveal the names of the aides when the Senate debates the government's performance next Friday. He would also propose for the Senate to open a general debate against a minister in charge of tourism, related to the Koh Chang issue.
It was a stroke of good fortune that the Prime Minister, various cabinet members and business leaders all managed to buy land on Koh Chang just prior to the announcing of plans to develop the island.