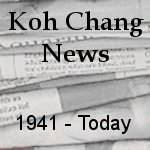 Jan 31, 2002
Koh Chang will soon be turning away budget travellers for those with deep pockets if the government pushes through its tourist development project. While the locals seem both bemused and excited by the idea of hordes of the well heeled, newly-arrived investors are quickly learning what should be provided.
Like an emerald jewel set in blue, the island of Koh Chang in the Gulf of Thailand has miles of unspoilt beaches considered by many to be best out of all our tropical islands, and just nine villages and two tambons.
Koh Chang has recently been targeted by Prime Minister Thaksin Shinwatara, who has grand visions of this sleepy paradise becoming another Phuket – and a major earner of hard currency.
"The island would generate huge revenue for the country if it were fully developed," confirmed Forestry chief Plodprasop Suraswadi, who was recently appointed chairman of the committee drafting Koh Chang's tourism master plan. The island would cater to "first-class tourists," to limit the number of visitors. "So backpackers would not be welcomed," the forestry chief said.
For many, this has a depressingly familiar ring. And just who stands to benefit? We have witnessed parts of Pattaya become another Patpong; Koh Tao like Khao Sarn Road, and Koh Phi Phi into another Patong Beach. Is Koh Chang destined to fill her coffers yet lose her soul?
Koh Chang covers 429 sq kilometres and is blessed by geography with waterfalls, streams, mountainous jungles and peaks – the highest rising to 743 metres. There is also plenty of level ground along the beachfronts. This idyllic place is home to wild pigs, macaques, and 30,000 residents.
The 52 islands that make up the Koh Chang archipelago were declared a Marine National Park in 1982, and about 80 per cent of the lush, forested island is under national park jurisdiction. There is so much rainfall that many bungalows and resorts consume free of charge.
Next year, an airport on the mainland in Trat province will be completed to handle the growing numbers of tourists. Meanwhile, the island has just 24 km of tortuous road that links the major communities, tourist resorts and guesthouses. The best hotel has fewer than 80 rooms, out of a total of 2,100 rooms on the entire island.
A traveller recently posted a message on the web board at pantip.com saying he was dismayed to return to his favourite island after the car ferry service began. "It will be even worse when the asphalt road goes right around the island," he wrote.
Many visitors are nostalgic for the days when a trip to Koh Chang meant a long ride on a fishing boat, followed by a long walk to find a vacant hut. After the announcement of the Koh Chang development project, it's clear that years of cheap and simple holidays are over.
Meanwhile, with the car ferry came new investors. Among them was Bumrung Roumsub, a former windsurfer and founder of the Paramotor club who currently runs the Havana Resort in Pattaya, and the Bumrung Sports Club in Rayong.
He came to Koh Chang by chance two years ago and established a small tour operation on the island that focused on sport and ecotourism. He's now established the "We Love Koh Chang Club" and recently opened the Iyara Resort on the banks of the serene Khlong Prao River, where more tourist projects are expected to be built.
Bumrung is not resentful of change. "It can mean improvement," he said, adding that the income from tourism will enable the island to pay for water, electricity, refuse disposal and other amenities which many guesthouses and resorts currently take for granted.
However, over-development has already left it's ugly mark; especially the tacky resorts at Had Sai Khao, the long sandy beach on the northwest side of the island. Songthaws transport visitors to the dense array of resorts while a jumble of small huts line the main road. About 80 per cent of the accommodation offered on Had Sai Khao belongs to local people. Property prices have risen steeply. Water management is still woefully undeveloped.
Even at the more serene Had Kai Bae, new resorts are being built and budget travellers have to seek over more remote areas towards Had Bai Lan and Had Tha Nam.
"I think we will see a lot more changes on the island next year with the development of small resorts to attract middle-range tourists," says Bumrung.
Nonetheless, he also firmly believes that the island should only have a six-metre wide asphalt road with a small bicycle path, no electricity lines above the ground, and the preservation of the natural environment.
"What's more, I think the locals should promote organic farming so what they sell to visitors is natural food from an unpolluted island."
While Had Sai Khao is almost spoiled, Bumrung thinks the pristine Had Khlong Prao should be developed for upmarket tourists. "With plenty of flat land, a long beach, the Khlong Plue waterfall, streams, fruit orchards and a peaceful environment, Had Khlong Prao is perfect if it's developed with care.
"This tropical island can be expanded beyond its low-key, backpacking roots. But it is still for people who love nature, and we must preserve that," he insists.
Scattered along Had Khlong Prao beach a handful of tourists are lying on the beach watching a panoramic sunset. Behind them are simple wooden bungalows, swaying coconut trees, and verdant hills. Further along the beach the tourists often mistake the red roofed building for a temple, but it's a resort under construction.
"It's surprising they consider the old thatched-roof bungalows have more of a right to be built on the beach than a new resort with better facilities," says Khun Rungnapa, from KP Bungalows located next to the new resort at Had Khlong Prao.
But then with 10-years of experience running "bungalows" Rungnapa has learned that young tourists prefer a stretch of deserted beach so they can sit back and read books rather than run around. Simplicity and peace is want they want.
KP Bungalows consists of 20 small wooden houses nestled amid the jungle a short distance from the beach. Many visitors come back year after year, especially those who are content with a mosquito net, fan, a water container for a shower and old linen on the beds.
"Right now, I can't see how upmarket tourists will outnumber the budget travellers. Many local landowners have chosen not to sell their land, and prefer to rent or run guesthouses themselves. At the same time, they have no money to improve the condition of their bungalows," notes Rungnapa.
She has seen all kinds of tourists. "What I want from the new tourism project is not more upmarket tourists, but those who qualifies as good tourists." Indeed, there are plenty of regulations at KP Bungalows, and the prices have gone up.
The one main street on Koh Chang runs from Had Khlong Prao to Had Kai Bae. Although Had Kai Bae is not the most scenic beach, it has been the main haven for backpackers. Today the thatched roof bungalows are gradually being replaced with new resorts.
Also on the agenda is the development of Bang Bao – a traditional fishing village of about 200 local people. Many of the flimsy wooden homes are on stilts.
Wiset was born in Bang Bao-born and has lived in one of these buildings that jut out into the sea for 30 years. The owner of a small grocery shop right next to the pier, Wiset makes a small income from selling soft drinks to visitors to supplement his main job as a fisherman. He seems bewildered by the speed of the development project, saying: "People say money will soon come to our front door, but I wonder how we will cope with it."
Wiset recognises that life today is more complicated: he now needs official permission to enlarge his house; wood-cutting is strictly prohibited, but then the new road, electricity and a public telephone will make life easier.
Meanwhile some of his neighbours are converting their modest homes into seafood restaurants and guesthouses and sell local products like shrimp paste and dried fish to visitors.
"We also change as we get older," Wiset's uncle chips in, adding: "And I've learned that it's often better to try something new."
It is a given that change is inevitable and change has improved the life of local people on many islands. But will we ever learn the most difficult lesson? That is, if we destroy the very thing that attracts people in the first place with ill conceived, unregulated development and rapacious greed, everyone loses.
The tourists will stop coming, the people will lose income and it will be too late to do anything about the environment that was wrecked in the process.
Vigilance is essential.
I wonder what Wiset "People say money will soon come to our front door, but I wonder how we will cope with it." did with his money. There's a lot of it in Bangbao, especially amongst the local families who control access to the pier and run boat trips and restaurants.