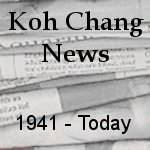 4 August 2002
PM's aide under fire for blocking inspection
The House Committee on Natural Resources and the Environment has charged that the premier's deputy secretary-general, Pol Lt-General Preecha Suwannarat, obstructed its investigation into alleged encroachment on public land in Trat province.
Chai Chidchob, chairman of the committee investigating the allegations against the Aiyapura Resort and Spa on Koh Chang, Trat, called Preecha's behaviour unacceptable.
The committee will soon send a letter to the prime minister to inform him of the situation, Chai said.
He said this is not a small matter because the hotel was charged with encroaching on more than 20 rai of public land through reclamation of land off Koh Chang. The land is valued at Bt100 million.
"We only tried to do our job, but faced obstruction [by the premier's aide]," Chai said.
The committee has complained that its inspection team was twice denied access to the site by hotel management, which reportedly has close ties to Preecha.
A Democrat MP for Trat, Thira Salakphet, said that Preecha, who reportedly has shares in the hotel, wrote to the House committee and its inspectors saying they would not be given access to the reclaimed land.
As the premier's deputy secretary-general, Preecha lacks the authority to issue such a letter, sources on the committee said. He would have to be a PM's Office Minister to have such authority, they said.
Preecha is reportedly a close associate of Pornchai Kemapakphong, the hotel's managing director. He sent the letter to the House committee in his capacity as deputy secretary-general.
Meanwhile, Prommin Lertsuridej, the premier's secretary-general, said the inspection team needed clearance from the provincial authorities to enter the area.
"After receiving the hotel's complaint, Lt-General Preecha, who is responsible for security and public complaints, looked into the matter and found that the House committee's move violated Article 189 of the Constitution and civil rights so he wrote the letter to the committee," Prommin said.