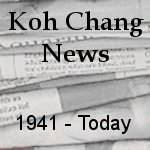 Trat's Than Mayom waterfall has been closed off following days of heavy rain out of fears that tourists could be injured, a park chief said on Thursday.
Kosit Nilrat, chief of Mu Koh Chang in Trat's Bo Rai district, said he has been informed by officials manning the Than Mayom waterfall that access to the waterfall has been closed since Tuesday after the waterfall and its river were bloated by days of heavy rain.
Kosit said the waterfall would probably be closed until after Sunday.
Klong Plu waterfall remains open but visitors are not allowed to enter the water as the current is too strong.
Source : The Nation