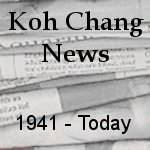 Bangkok Post, 6 February 2018
ThaiPBS News, 6 February
TRAT: Authorities derailed plans by people on Koh Chang to air their grievances personally when Prime Minister Prayut Chan-o-cha made a brief visit to the island on Monday.
Officials confiscated two banners a group of people living on the island had readied to show the prime minister after seeing them display the first one. The banner read, "Koh Chang people will have a better life if the prime minister shows sympathy."
Officials said banners were banned and directed them to lodge their complaints at the government complaint centre in the province. The ban was enforced by the presence of navy marines and provincial and district officials.
Island residents had planned to draw the prime minister's attention to land disputes they have with Koh Chang National Park and the Royal Thai Navy, group leader Watchara Muntawin said.
The issue was later raised during a meeting with Gen Prayut. Upset residents argue they were living on the island and occupying the land in question long before the national park was declared and the navy arrived to stake a claim.
About 200 coastal fishermen from Rayong and Trat were waiting to submit a letter asking the prime minister to crack down on foreign workers threatening their jobs.
They had planned to give Gen Prayut a bouquet of flowers, but it was also banned by authorities.
Suchart Meepheung, who led the disappointed fishermen, said they all decided to return home, and dumped the flowers into the sea.
Trat was the first stop for the prime minister in his first cabinet outing this year. A cabinet meeting is scheduled in neighbouring Chanthaburi on Tuesday.
Gen Prayut has been out visiting to provinces since last year, trips arranged as the country moves slowly towards a promised general election and political parties are still prohibited any activities at all.
The prime minister used his weekly TV broadcast in September last year to deny suspicions he was using upcountry visits to boost his popularity ahead of the polls.
A plan to solve the water shortage and garbage disposal problem on Koh Chang is on the cabinet agenda for the Chanthaburi meeting.
The highlight is planned to be the cabinet's promotion of the Eastern Economic Corridor scheme and finding ways to bring Trat and Chanthaburi on board.
The two provinces are so far not included in the massive investment, which covers Chon Buri, Rayong and Chachoengsao.
+++
The government has accepted in principle seven projects proposed by the residents and business operators of Koh Chang during the visit today (Monday) to Trat province by Prime Minister Prayut Chan-o- cha and his cabinet.
The prime minister will chair a mobile cabinet meeting in neighbouring Chanthaburi province on tomorrow and Wednesday.
Prime Minister Prayut said he hoped the seven proposed projects would transform Koh Chang, the country's second largest island after Phuket, into a model of eco-tourism city, with quality and safe farm products, skilled labour, strong community and efficient natural resources management.
He told Trat people that he came to see them to listen to their problems and needs so that his government could address their wishes.
He said his government was ready to look after the people and wanted them and to turn to one another instead of fighting one another to bring about prosperity, peace and order in their society and communities.
The seven proposed projects include: development of a road around Koh Chang; Klong Prao reservoir project; garbage separation plant project; project for feasibility study and design of a waste water treatment facility; public pier project; health system development project to accommodate the need of tourism business and a manpower training centre to produce personnel in tourism and service sector.
One major project which was earlier demand by a large group of tourism operators and residents is a bridge linking the island with Trat mainland. It was however not raised with the prime minister today.