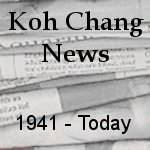 The Nation, 2 September 2017
Park officials in Trat province on Friday carried out a third raid over the construction of a pier encroaching on a marine park in Koh Chang by a resort owned by the president of the Trat Provincial Administrative Organisation (PAO).
The latest raid was led by Kosin Nilrat, chief of the Koh Chang National Marine Park. Kosin, and Chumporn Khaopong, assistant chief of the park, went with park officials and ordered workers to halt construction of the pier of the Koh Lao Yao Resort on the Lao Yao island in Tambon Koh Chang Tai in the province's Koh Chang district.
The resort is owned by Wichian Supcharoen, president of the Trat PAO. Kosin said it was the third time that Koh Chang park officials had to conduct a raid as the pier workers would not stop the construction work. Kosin said park officials made the first raid on October 15, 2012 and filed a complaint with Koh Chang Police Station but the case had seen no progress.
Kosin said the construction of the pier continued hence park officials made the second raid on August 29. He said since the workers would not stop their work, he had to lead officials to raid the pier again on Friday. Kosin, who was recently appointed head of the Koh Chang park, said he had no option but to enforce the park law. Kosin said he would seek a meeting with the Trat PAO president for his cooperation in stopping the construction. He said his park would seek a budget for the demolition of the pier.
Source: http://www.nationmultimedia.com/detail/breakingnews/30325505