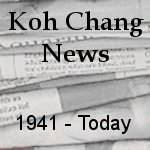 Bangkok Post 21 December 2017
TRAT: About 150 Thai and foreign tourists stranded on Koh Mak by rough seas since Tuesday were being given a lift back to the mainland by the Royal Thai Navy on Thursday.
The navy sent HTMS Klaeng from Trat to them pick up after the passenger boat operator said the seas were too dangerous to make the trip.
The tourists planned to return to Laem Ngop district on the mainland on Tuesday. They have been stuck there since.
All were taken aboard the navy ship, which was expected to arrive in Laem Ngop in the afternoon.
Strong winds were whipping up waves two to four metres high off the amake waves off eastern province coasts, conditions expected to contine until at least next Friday, the Meteorological Department said.
It warned of heavy rain in Pattani, Yala, Narathiwat and Satun from Saturday to Monday as storm Kai-tak moves towards Thailand.
Small boats in southern provinces along the Gulf of Thailand are advised to stay ashore.
( Photos from Eddie and Sadie on Koh Mak. Much of the work co-ordinating the ships and getting people to the pier was done by Mr Peak from Goodtime Resort )