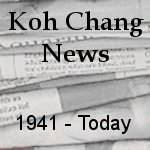 Bangkok Post , 29 January 2016
The body of an elderly Danish woman lost at sea after falling from a ferry en route to Koh Chang last night was found Friday morning.
The 73-year-old tourist, identified by her Danish husband as Inge Lise Bjorck Nielsen, fell from the ferry about 1,000 metres from Dan Kao ferry pier in Koh Chang district, about 30 minutes after the boat left tambon Khlong Yai in Laem Ngop district, according to a rescue team.
After an intensive search that began again Friday morning, her body was found floating about five nautical miles off Dan Mai pier at 9.50am, Thai media reported.
The ferry captain had immediately turned back after learning his Danish passenger fell overboard, but she couldn't be found in the dark. After searching for the missing woman for about an hour, the captain continued to Dan Kao pier to allow other passengers to disembark and alerted the navy's maritime-security centre, which sent boats to comb the area.
Dollaporn Sawatdisarn, manager of the Centre Point Ferry pier, said the tourist boarded the ferry in Laem Ngop district at 7.30pm, the last voyage of the day.
The pier manager said a Chinese tourist fell from another ferry two days earlier, but was recovered safely.
Pol Maj Kitwarut Pudnuan, inspector at the tourism police station 6, went to Koh Chang to meet the missing tourist's husband. The couple had come from Bangkok for a holiday on Koh Chang on Thursday.