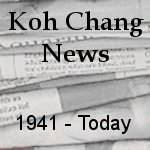 Bangkok Post 11 June 2016
TRAT: The Council of Engineers has advised the Siam Beach Koh Chang resort to demolish the remaining five buildings on the site where a two-storey building collapsed and killed a Thai tourist last week.
Amorn Pimanmas, the secretary-general of the council, on Saturday led a team of structural experts to inspect the building that collapsed on June 4. The team also inspected the remaining buildings in the same zone. The hotel has three zones and the building that collapsed was in Zone A.
One of the six two-storey structures in Zone A came down on the morning of June 4 following heavy rain, leaving one tourist dead and five injured including a three-year-old boy.
The tourist was identified as Kotchakorn Thammachak, 37. Injured were Pairoj Wiriyarak, 54; Watthanat Wiriyabut, 39; Walee Sunthornsarn, 37; Joranee Pandokmai, 35; and Reeong Wiriyabut.
The Koh Chang municipality ordered the resort closed indefinitely and has declared the area a disaster zone.
Senior officials from the Trat public works and town planning department joined the engineers on Saturday's inspection tour.
Mr Amorn said a structural analysis by his team showed that buildings in the zone had been built on a sloping rock site with shallow foundations and lacked piles. Such a construction method increased the risk of structures sliding if rock and soil layers were eroded.
The collapse of the building resulted from soil erosion caused by water beneath its base, he said.
He urged the hotelier to demolish the remaining buildings in the same zone as cracks had developed in their walls. Unless they are torn down, they might also collapse, he warned.
He also advised tourists to examine the structures of buildings in which they stayed. If they are staying in a building built in a similar manner as the Siam Beach Koh Chang, they should evacuate immediately if they hear a shaking sound.
The Siam Beach Koh Chang resort was built on a concrete foundation and its construction was approved by the municipality in 2003. The structures and their construction were designed and supervised by engineers in line with the Hotel Act.