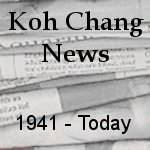 Thaivisa, 28 November 2016
( Translated from a Thai news article )
A hotel in Koh Chang has fallen victim to a bunch of high end Russian tourists who stayed for ten days but used someone else's credit card.
Now immigration are checking all ports for the gang and issuing warnings to hotel operators to verify credit card information and register all guests according to the law reports Manger Online.
The group of Russians reserved several rooms in advance at the Koh Chang Grand Orchid Resort earlier this month and stayed for ten days.
All seemed above board but five days after they had left the bank did not honor the 99,000 baht payment because the owner of the credit card said he was not there at the resort. All the rooms were booked using just one card.
The resort owner Mukda Charoenprasit, 56, reported the case to police but only mentioned 6 Russian names while admitting there were 16 tourists in the rooms.
Police said this was a new scam to fleece hotel owners. But they did say that they thought the owner of the card was actually at the resort but that he had not himself made the booking.
Ranarong Buayen of the local force said that they think the gang are still in Thailand and that all ports have been warned to be on the lookout for them.
He said that the reservation was done properly in advance and the credit card limit had not been exceeded with the booking except that the names had not been properly checked. He advised that SMS verification should be used by operators.
Meanwhile in the light of the case immigration warned operators to make sure that all foreign guests were registered according to the law laid out in Article 38 of the immigration code.