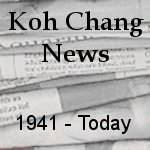 Coconuts Bangkok & Bangkok Post – 9 March
Read this and wonder what would have happened if the broke tourist was an photogenic middle aged guy who spent his cash of partying instead of planning how to get back to Bangkok. Probably wouldn't have had the same level of sympathy.
A local police officer was praised online after he helped a Russian woman who tried to walk 400 kilometers from Trat province to reunite with her friends in Bangkok last week.
The 24-year-old backpacker, only identified as Irena, was seen by villagers walking alone with just a shoulder bag on a road not far from the ferry pier in Laem Ngob district.
Fearing that she might land into trouble, Pol. Lt. Mana Petpong rushed to the scene. Irena told the officer she went to Koh Chang with four other friends but decided to stay alone after her friends returned to Bangkok.
She had run out of money and could not afford the bus fare to Bangkok, so decided to walk back instead. When Pol. Petpong first offered his help, Irena declined and insisted she wanted to walk. So he contacted a Russian-speaking interpreter to help persuade the tourist to accept his help.
Irena got a free night stay at a hotel in Trat on Tuesday night, and in the morning, she was offered a free ride by a commuter van driver, Thai PBS reported. Khao Saming district police also gave her THB500 cash.