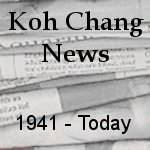 Bangkok Post, 16 April
TRAT — Songkran revellers on Koh Chang are looking at long queues, likely until Saturday night, to board a vehicle ferry from the island for their return home.
Though some visitors to the popular island started leaving their holiday retreat on Friday, many who expect to leave Saturday are reporting queues as long as three kilometres on the road to the pier.
The island's two piers with nine ferries have a combined capacity to ferry out 200 vehicles per hour but some 2,200 vehicles arrived on the island over the long holiday, according to Kamthorn Waeha, the chief of Koh Chang district.
The ferries have been operating at full capacity since 7am daily and on Friday the services were extended until 9pm, from the normal last sailing of 7pm.
Mr Kamthorn said he expected services to be extended to 8pm Saturday to allow as many people as possible to leave.
In addition to the traffic jam for ferries on the island, the Trat bus terminal is also busy as about 1,400 visitors are preparing to leave. The Transport Co has prepared 40 buses and vans for visitors to travel to Bangkok.