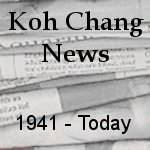 From The Monitor, 10 February 2016
( Koh Chang in small town Aussie news )
A holiday to Thailand is set to double as a humanitarian mission for local woman Robyn Parry.
She will be travelling to the country next month to visit her mother's grave.
This will be the second time she has done so since her mother's death in 2013.
It will also be a chance to holiday with her father, her partner and two children.
Another purpose of the trip will be to donate food to underpriveleged children in the towns they visit.
"We were thinking about what we could do while we were over there," Ms Parry said.
"(Having lived there for six years previously), I was trying to think of places I had been before and I thought we could visit Baan Luuk Rak.
"It is an orphanage with about 50 children where they do school and everything – including chores – but they don't have a lot of toys, clothes or anything. Plus they get fed by an external agency."
During her six-year stint in Thailand, Ms Parry said she had made donation runs with a local motorcycle club and was keen to keep this up.
Also after seeing someone use Facebook to seek donations for their cause, she decided to do the same.
She called a Thai friend to determine what the best items to buy for the children were and decided food was the best option.
She said it would have been too hard to get suitcases full of toys and clothes through the airports.
Ms Parry is collecting donations of money so that she can purchase food when she gets to Khon Kaen, Thailand.
She will then take the goods to the Baan Luuk Rak orphanage and share a meal with the children.
However, her mission will not stop there.
Her next stop will be the beachside town of Koh Chang because she had never visited a beach in Thailand before.
Upon inspection of the area, she found another service in need – the Cambodian Kids Care Center.
"It is not a tourist island, so I was looking at what we could do in Koh Chang," she said.
"I went to a website called 'IamKohChang.com' and under the things to do it had 'help with Cambodian Kids Care Center'."
The centre was started up by a man named Uan to help Cambodian children who are left alone during the day beacsue their parents go off to work.
He picks them up from their homes, feeds them meals and provides them with a basic education before dropping them home each night.
He runs the centre with the help of the occasional backpacker or local.
Ms Parry has already offered to assist with teaching and food donations during her time in Koh Chang.
Her partner Andrew is also offering his diesel mechanic skills to help fix the transport they have to get the children to and from the centre.
"I feel bad for the kids, so I just want to do something nice for them," she said.
"If others want to help as well even small amounts will be great – a couple of dollars is enough to feed them lunch."
Anyone wishing to make a donation towards Ms Parry's cause is being asked to contact her via Facebook.