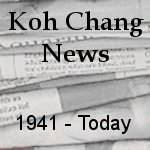 Bangkok Post, 3 March
( The local authorities are still trying to push this area of Thailand as a 'Low Carbon' destination.  In reality, it's no different from anywhere else in the country.   The group of tourists mentioned in this article were all invited guests.  same as with all TAT / DASTA organised trips and activities.   Only when simple things such as garbage collection, are efficiently organised and handled on the islands & resorts stop burning their garbage, can more advanced steps towards being 'green' and 'eco-friendly' begin.  Koh Kham gets a prominent mention in the article – what isn't mentioned is that a super rich Thai guy bought the island, started building  luxury resort, didn't get the proper permission for this and now the resort is sitting idle, unfinished and is starting to crumble. Not particularly eco-friendly. )
)
About 60 Thai tourists enjoyed sea, sand and sun and participated in environmentally-friendly activities on the five islands of Trat during the recent three-day Low Carbon Holiday 2015. The success of the first official low-carbon tour in Thailand is proof the project is taking shape in Trat, about 300km from Bangkok.
Also, it serves as a good example for other attractions. The programme is part of the low-carbon destinations project supported by the Designated Areas for Sustainable Tourism Administration (Dasta) and the Institute for Small and Medium Enterprises Development (Ismed).
Apart from Trat, Dasta promotes other destinations — such as Pattaya, the Sukhothai and Kamphaeng Phet historical parks, Loei and Nan — to be "climate-friendly" tourism destinations. According to Dasta, low carbon destinations are environmentally friendly which focus on reduced CO2 emissions and more CO2 absorption through forest conservation and natural balance.
On the first day of the Low Carbon Holiday, the tourists who had learned about the project from Ismed and local tour agents' ads travelled by coach from Bangkok to Laem Sok Pier in Trat where they took ferries and travelled for 90 minutes to Koh Kut, an island of beautiful beaches, crystal clear sea and abundant flora. After having lunch by the Khlong Chao Canal, they selected one of the three choices — planting trees at Khlong Chao Waterfall, releasing baby fish or crabs into the Khlong Chao Canal, or kayaking on the canal. Later, the group travelled for half-an-hour to Koh Mak, Thailand's first low carbon island. After their arrival, they chose to rest and stroll on the beach, ride a bicycle or sightsee on an open-sided bus called a rot rang.
On the second day, the group visited organic vegetable farms at Koh Mak Resort before travelling by long-tailed boat for about 10 minutes to the nearby Koh Kham. They released baby sea turtles and fish into the crystal clear turquoise-coloured sea. After travelling for half-an-hour to Koh Wai, the tourists had lunch and planted coral under a foundation's coral reef conservation project. Later, it took about an hour for them to reach Koh Chang where they attended a workshop at a natural therapy centre near the Salak Khok mangrove area. At night, they enjoyed a beach party which highlighted a cooking show for seven leading chefs to prepare the "chef's dish on desire" from local ingredients.
On the final day, the group took ferries from Koh Chang to mainland Trat to visit an organic veggie farm and crab farm and enjoy food under the "From Farm To Table" concept. After that, all of them returned to the capital city with happy hearts and inspiration.
Chuwit Mitrchob, who was then the deputy director-general of Dasta, said this first low-carbon holiday drew positive feedback with tourists asking for similar trips and wanting to see more participation by local communities.
"We are delighted and wish to apply this idea to five other areas, including Nan and Sukhothai provinces," said Chuwit. "Low-carbon tourism should include using public transportation and bicycles, travelling while conserving the environment, eating local food and staying at environmentally-friendly resorts.
"Resorts and hotels which participate in the low-carbon tourism project have garbage management systems, recycled water [for gardening], and opt for solar cells and post signs suggesting guests adjust the temperature to 25C and switch off air-conditioners and lights when leaving their rooms."
Several years ago, Dasta and Deutsche Gesellschaft für Internationale Zusammenarbeit (GIZ), a German sustainable development organisation, saw the potential of the Koh Chang cluster, including Koh Mak and Koh Kut, to become a low-carbon tourist destination. The cluster comprises 10% mainland area and the marine area covering Koh Chang, Koh Mak and Koh Kut and 49 smaller islands. Seven years ago, Dasta and GIZ introduced several CO2-reducing activities for the communities and tourism operators in the cluster, including community-based solid waste management, training in the tourism sector about climate change, energy and resource efficiency and organic production. Results have been visible for three years on Koh Mak.
Charnsak Thawil, deputy governor of Trat, added that provincial authorities fully support low-carbon tourism to conserve the beautiful sea because this project is in line with the status of Trat as a green city.
According to him, this concept is applicable to all types of tourism and activities must affect nature as little as possible. All concerned agencies in Trat are strict with an environmental protection law.
"This three-day, two-night low-carbon holiday programme was a role model for tourism programmes to decrease carbon emissions. Our studies and comparisons found it could lower carbon dioxide emissions by 56% from regular trips," said Jakrapad Taveteekul, chairman of the Trat Tourism Industrial Council.
"Dasta has always been our coach to push for low-carbon tourism. This low-carbon holiday will better the reputation of Trat as a high quality tourist destination. Sustainable tourism can be achieved through all sectors' awareness of natural resources and environmental protection."
Participants of the Low Carbon Holiday release sea turtles on Koh Kham. This programme is done in co-operation with the Sea Turtles Conservation Centre of the Royal Thai Navy in Ao Tao Khai, Chon Buri, where sea turtles used to lay eggs decades ago. To get to Koh Kham, tourists can travel by long-tailed boat from Koh Mak. Travel time is about 10 minutes. The boat fare is 40 baht per head for a return trip. Admission fee to Koh Kham is 60 baht per head.
Visitors can learn about healthy eating and oil pulling, exercise, meditation, home spa and detoxification during a workshop at The Natural Therapy Study Centre of The Spa Koh Chang Resort. Dasta also recommends at least five activities in Salak Khok and Salak Phet communities, about 20km from the ferry pier, for tourists. They are a cruise along a canal in Salak Khok, visiting an extra virgin coconut oil factory, a coconut shell product shop, Wat Salak Phet and its museum, and a mangrove study trail.
Tourists planted corals off Koh Wai under the "Vinylthai Plants The First 80,000 Corals for His Majesty The King" project. Launched in 2008 by Vinylthai Pcl, the Marine Scientific Activities and Conservation Foundation, and several public agencies and local communities, the project focuses on growing staghorn corals on PVC pipes in the seas off Chon Buri's Samae San and Kham Islands, Rayong's Samet Island, Prachuap Khiri Khan's Thalu Island and Trat's Wai Island. However, all the corals perished due to coral bleaching about five years ago and the project had to be started again. The project also includes research on how to grow other kinds of coral on PVC pipes and how to revitalise coral reefs.
Tourists visited organic vegetable farms at Koh Mak Resort. Some resorts on Koh Mak encourage guests to join in with green activities, such as planting trees, biking or releasing sea turtles. Local resorts and restaurants buy daily catches from local fishermen in order to reduce the carbon footprint generated by food transportation from the mainland. Koh Mak is a small island between Koh Chang and Koh Kut in Trat. Most land is used for coconut and rubber plantations. Dasta and Ismed transfer knowledge about sustainable tourism and green projects and build brand awareness among tourists. About four years ago, owners of the 35 resorts and about 20 restaurants inked a joint agreement to make Koh Mak a low carbon destination. Many resorts and restaurants there have used solar cells to generate electricity for lights along walkways and dining areas, for hot water in guest rooms and for water pumps in swimming pools. A waste management plant was constructed by Dasta and Koh Mak municipality and can manage about 30 tonnes of waste per month. It can turn organic waste into fertiliser and biogas for boiling water and teaches resorts to turn leftover food from their kitchens into cooking gas. In addition, recycled waste such as plastic and glass bottles, aluminium cans and paper is collected and transported to the mainland for resale.
On Koh Kut, tourists released baby fish into the Khlong Chao Canal and enjoyed kayaking on the canal. Located near Koh Chang, Koh Kut is Thailand's fourth largest island covering 105km². It is 25km long and 12km wide. It is widely known as the "Andaman of the Eastern Sea" due to its white beaches and the crystal clear emerald-coloured seawater. It is a getaway for those who like slow tourism and slow life. The best time to visit this island is October- May. The Khlong Chao Waterfall is a famous attraction. The island is full of beautiful beaches ranging from Yai Kee Bay, Khlong Chao and Ao Phrao beaches, Ngam Khom Bay, Ao Bao Bay, Khlong Rin beach and Phrao Bay to Thian Cape. This island has fertile mangroves and coral reefs.
Tourists enjoyed the Low Carbon Party. Seven leading chefs on Koh Chang showcased their culinary skills in a cooking show by preparing the "chef's dish on desire" from local ingredients — fresh seafood, vegetables and fruits, including local fish and shrimp paste.