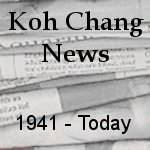 Bangkok Post 28 February 2016
Five Cambodian fishermen have been arrested over the alleged rape of two French tourists and assaulting their male compatriots on the Island of Koh Kut, Thailand.
According to a preliminary police investigation, the five were drinking liquor on their boat, and after they ran out, they put on life jackets and swam to the shore to buy some more.
The drunken men ran into a group of four French tourists, two women and two men, who were walking around the back of their resort on Saturday night.
Pol Lt Col Suraporn Thepsane, deputy chief of Koh Kut police station, said the Cambodian boat crew tried to kidnap the two women, aged 57 and 28, and assaulted their male companions, aged 30 and 29,  attacking them when they tried to help.
The suspects allegedly raped the women after the first man was injured and the second ran for help at the resort.
The attackers fled after a group of resort staff and residents accompanied by the French man came to help. The three victims were found in critical condition and were initially treated at Koh Kut hospital before transferred to Trat hospital.
Doctors said they had undergone surgery and are being treated in an intensive care unit where their conditions is described as satisfactory.
The three detained on the resort island of Koh Kut after a 50-strong force of marines, police and administrative officials supported by villagers sealed off their escape route, the other two were captured at Hat Let immigration checkpoint in Trat's Khlong Yai district at 3pm Sunday as they allegedly tried to flee to Cambodia's Koh Kong province.
National police chief Chakthip Chaijinda will question the five Cambodians and follow up the case himself on Monday, Pol Lt Col Suraporn said.