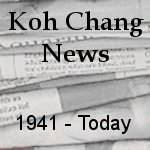 Bangkok Post, 11 August 2016
TRAT — One of the two car ferry companies operating between Trat on the mainland and Koh Chang, the province's popular tourist island, suspended its service for four hours without prior notice on Thursday afternoon to protest an order to partially demolish its pier, causing hardships to commuters.
Koh Chang Express Co operates vehicle and passenger ferry services under the name Ferry Koh Chang from Ao Thammachart pier in Khlong Yai district and Ao Sapparot pier on Koh Chang. It ceased operating at 1pm after officials from Mu Koh Chang National Park put up a notice ordering the company to raze some structures at Ao Sapparot pier that had encroached on park land and into the ocean.
The incident occurred when many passengers and vehicles were already on board the ferries at both the company's mainland and island piers. The passengers were reportedly stunned when Koh Chang Express staff asked them to disembark and refunded their fares. Commuters at Ao Sapparot pier were told that park officials had ordered the pier shut, so the company could no longer use it.
Most passengers were forced to go to nearby piers operated by the other ferry company, Centrepoint Ferry. Some decided to cancel their trips to the island and returned home. Local marine department officials and rescue workers helped direct traffic and facilitate travellers as queues for the ferry at Lam Ngob pier on the mainland and Darn Kao pier on the island grew increasingly long.
The incident has raised concerns over travel between Trat and the popular tourist destination as thousands of tourists are expected to descend on the island for the long Mother's Day holiday this weekend.
Under instructions from Trat governor Charnna Iam-sang, Koh Chang district chief Kamthorn Waehon negotiated with executives of Koh Chang Express and got its services resumed. He told them that the closure was causing inconvenience to the public and tourists and would damage tourism over the three-day holiday.
The company agreed to resume services at 5pm.
Park chief Veera Khunchairak criticised the ferry company for attempting to "divert a legal issue" by halting its service. It was a completely wrong move, he said.
"The park treats all business operators equally which have encroach upon its land," Mr Veera said. "This is the second time a notice has been put up at the Ao Sapparot pier, but the operator remained stubborn and did nothing. "
"Now they have stopped the ferry service which affected tourists and people travelling between Koh Chang and Trat province."
The company has been given three months to demolish all of the illegal structures on its island pier. If it fails to do so, park officials will move in to destroy them, Mr Veera said.