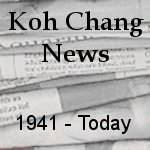 The Sun, 14 August 2016
The victim, reportedly a student at University of Exeter, died the day after arriving on the island with three friends.
The 19 year-old British girl who drowned while swimming off the coast of the Thai island of Koh Chang has been named locally as Bryony Freestone.
The teen was reportedly a student at the University of Exeter and had arrived on the island on Saturday with three friends before tragically dying during a morning swim on Sunday.
The teen had been swimming off the popular Thai tourist spot Koh Chang when she got into difficulty during rough seas.
Volunteers arrived at the scene at 10am and found her unconscious on the beach in front of the White Sand Beach Resort.
It is believed medics tried to resuscitate her on the beach before transferring her to the International Clinic on Koh Chang, where doctors tried for two hours to save her life.
Local authorities had reportedly warned of severe weather conditions and red flag warnings had been posted on the island.  A 55-year-old man died off the coast of the same island yesterday.
According to Thai media, the student and her friends had arrived on Koh Chang the day before and were staying for a short visit.
The teen's body has reportedly been sent to the British Embassy in Bangkok for an autopsy to confirm the cause of death.
A Foreign Office spokesman said: "We are supporting the family of a British National who sadly died in Thailand on 14 August."