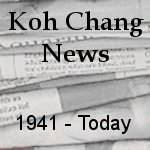 16 April 2010 (NNT)
Authorities on Ko Chang off the coast of Trat province have laid down a clean-up campaign to prevent the amount of waste on the island from accumulating.
Mr Sakprasert Charoenprasit, District Chief Officer of Ko Chang, said that the number of tourists in Ko Chang has evidently climbed up during tourist season. Therefore, in order to build up impressive feeling on them, the authorities of Ko Chang have asked for cooperation from locals in keeping their houses and surrounding areas clean.
The district chief said special attention has been given to garbage collection, in which residents are asked to help district workers by separating different types of waste. Specific garbage collection time has been scheduled.
Mr Sakprasert said that members of the local administrative organization will be given knowledge on the efficient waste management while fishermen will also be trained to prevent them from dumping trash into the sea.
+++
From what I've seen it doesn't appear to be sinking in.   Koh Chang after a long holiday weekend is strewn with plastic bags left by Thai tourists who appear to see it as their duty to bring waste from Bangkok to leave on the beaches and by the roadsides. Really it shouldn't be hard   to train people not to throw crap in the sea.   But as it's a traditional way of disposing of garbage there are cultural considerations to take into account.   That plus the sheer laziness of people.