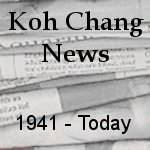 February 18, 2010
(Translated from Swedish newspaper )

Elyas, 25, gjorde sin drömresa till Thailand. När den var över skulle han resa till London för att plugga – men nu har han hittats död. Elyas, 25, made his dream trip to Thailand. When it was over, he would travel to London to study – but now he's found dead.
– Det värsta är att vi inte fÃ¥r reda pÃ¥ vad som har hänt honom, säger hans farbror Arefaine Samson. The worst thing is that we do not know what happened to him, "said his uncle Arefaine Samson.
Chockbeskedet kom en vecka före jul. Då fick familjen Samson besök av Stockholmspolisen som berättade att en kropp som kunde vara Elyas hade hittats på stranden på den thailändska ön Koh Chang. Shock announcement came one weeks before Christmas. When the family got a visit from Samson Stockholm police, who informed him that a body could be Elyas had been found on the beach on the Thai island of Koh Chang.
De sa att det var 90 procent säkert att det var Elyas men jag ville inte tro att det var sant, berättar Arefaine Samson. They said it was 90 percent certain that it was Elyas but I did not believe it was true, "says Arefaine Samson.
Den thailändska polisen hade inte lyckats fastställa identiteten på kroppen men allt pekade på att det var 25-årige Elyas från Örebro som dött under mystiska omständigheter. The Thai police had failed to establish the identity of the body but everything indicated that it was 25-year-old Elyas from Örebro who died under mysterious circumstances.
Han hade checkat in pÃ¥ hotellet och lämnat sitt pass och sin väska. Efter det hade han inte kommit tillbaka. Allt fanns kvar pÃ¥ hans rum, säger Arefaine Samson. He had checked into the hotel and left his passport and his wallet. After that, he had not come back. Everything was left in his room, "says Arefaine Samson.
Det fanns ju en liten chans att det inte var han som hade hittats. Samtidigt sÃ¥ vet vi ju att han hade hört av sig om det inte hade hänt honom nÃ¥got, säger hans syster Aida Samson. There was a slight chance that it was he who had been found. At the same time so we know that he had heard of itself if it had not happened to him, "said his sister Aida Samson.
Det var först i fredags som polisen kunde ge det slutgiltiga beskedet. It was only last Friday that the police could make the final announcement.
– De hade tagit DNA för att vara säkra pÃ¥ att det var Elyas. Vi var förberedda pÃ¥ det här men det känns ändÃ¥ fruktansvärt, säger Arefaine Samson. They had the DNA to be sure that it was Elyas. We were prepared for this but it still feels terrible, "says Arefaine Samson.
Elyas hade jobbat ihop pengar till drömresan pÃ¥ sitt jobb inom hemtjänsten i Stockholm. Den 22 november lämnade han Sverige för att njuta av sol och bad vid Thailands vackra stränder. Elyas had worked together money for a dream trip to his job in home care in Stockholm. On 22 November, he left Sweden to enjoy the sun and sea at Thailand's beautiful beaches.
Vi hade kontakt med honom hela tiden. Han verkade glad och mejlade bilder pÃ¥ sig själv där man ser att han trivs, berättar hans syster Aida Samson. We had contact with him all the time. He seemed pleased and e-mailed photos of herself in which one sees that he likes, "says his sister Aida Samson.
Efter att ha tillbringat tio dagar i Bangkok checkade han ut från sitt hotell den 30 november för att åka vidare mot Pattaya. På internet skriver han att han var väldigt nöjd med sitt hotell. After having spent ten days in Bangkok, he checked out of their hotel on 30 November to going on to Pattaya. On the Internet, he writes that he was very satisfied with their hotel.
Han var sådan. Han var alltid glad och ville allas bästa, säger Aida Samson. He was always happy and wanted everyone says Aida Samson.
Sista gången som familjen hörde av Elyas var den 10 december. Då berättade han att han tänkte resa vidare till London för att studera. The last time the family heard of Elyas was on December 10. Then he told us that he would travel on to London to study.
Han skulle ringa till sin mamma senare pÃ¥ kvällen men kom inte fram eftersom det var nÃ¥got fel pÃ¥ telefonen. Hon är helt förstörd och kan inte komma över det som har hänt, säger Arefaine Samson. He would call her mother later that evening but did not arrive because there was something wrong with the phone. She is completely destroyed and can not get over what has happened, "says Arefaine Samson.
Nu hoppas familjen att UD ska kunna ge dem ett besked om vad som orsakade hans död. Now the family hopes that the UD is to give them an answer on what caused his death.
Allt vi vill nu är att fÃ¥ reda pÃ¥ vad som har hänt. Vi mÃ¥ste fÃ¥ veta för att kunna gÃ¥ vidare, säger Arefaine Samson. All we want now is to find out what happened. We need to know to move forward, "says Arefaine Samson.