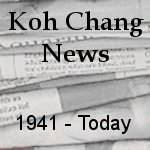 5 March 2010
(Translated from Swedish news story)
Ida, 9, came close to dying due to a Thai killer jellyfish.
The fireman Anders Brunzell ripped off jellyfish tentacles from Ida's body and her heart started again. "Were it not for Anders as she had been dead. " said Ida's mother Jenny.
The Rosenberg family from Tyringe in southern Sweden had just begun their winter vacation in Thailand. Mum Jenny, 36, and father Frederick, 35, was out snorkeling in the waters off the island of Koh Mak. Inside the shore bathed Ida.
Suddenly they heard a loud scream.     It was Ida's voice. Frederick looked at me and shouted: "What the hell is going on?". And without thinking, we began to swim toward land","says Jenny Rosenberg.
Once at the water's edge, she saw her daughter Ida, unconscious in the sand. Anders Brunzell, 42, fought to save her life.   Ida's heart had stopped by an allergic shock from the jellyfish's tentacles.
"I and the family were sunbathing and a bit away. We ran to Ida and saw that her right leg was completely covered with long threads, like the glass noodles. There was only one thing to do", says Anders who with his wife Marie began to rip off the tentacles with their bare hands.
Anders, who works as a firefighter in Stockholm, began CPR and ordered staff at the nearby hotel to get vinegar to dissolve jellyfish Cnidocyte. He also borrowed oxygen from the hotel. "The only problem was that the oxygen mask was made for diving, so it did not work, "says Anders.
Now they had to act quickly before Ida's life was lost. Meanwhile, Anders struggled to save Ida Jenny took her hand. She called out her name.
""It's okay, everything will be okay," I said. And after a while she woke up again, "says Jenny.
Ida was taken by boat to the town of Trat on the mainland. Where Anders handed her over to an ambulance crew which drove her to the hospital.
It was the beginning of a long wait for mom Jenny.   Today, two days after jellyfish attack, feeling Ida the circumstances. She is conscious again, but is badly burned on the leg and body parts.
Over the next few days, she and Jenny to stay at the hospital in Trat for observation.   "Because she was unconscious for as long as hospital staff are worried that she has had brain damage. She is a bit groggy and still have a fever. But, everything else seems okay, "says Jenny.
Jenny is grateful for the Thai health care, and over Anders's rapid action.   "There are no words. What do you say to a man who has saved the life of your daughter? There are no words to describe emotions. But one thing is clear: were it not for him, as Ida had been dead today."
But she is skeptical that the hotels did not warn tourists of the dangerous jellyfish, although several people have died in the past.   "No signs, no information. The day after that Ida was burnt I was told that people were down there the water at the same place and swam again. This should not be allowed to go on.       On the other hand, I myself have read in the newspaper about similar events in Thailand. But as with everything else one thinks that "it does not happen to me". Stupid really, "says Jenny.
Shaken by the drama.
Yesterday Anders and his family, we're still the island of Koh Mak.   And although he is familiar with emergency situations in the job, both he and the family shook the event which could have   cost Ida her life.     Of course it is not prepared to like this to happen when you are on holiday
Many would call him a hero. "I did something on the beach. But the hero I do not know ", he says humbly.