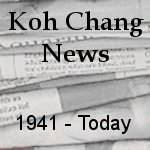 BANGKOK, 19 January 2010 (NNT)
Minister to the Prime Minister's Office, Satit Wonghnongtaey will pay his official visit to Koh Chang district in Phuket province to gain first hand information towards the Koh Chang land encroachment case tomorrow.
Trat Governor, Kanpetch Chungruangsri disclosed that Mr Satit will travel to Koh Chang district to make a visit and to hear the problems over the encroached state-owned land impasse in Koh Chang area at Khlong Son house Moo 3 and Hat Sai Khao village Moo 4 in Tambon Koh Chang.
On Wednesday afternoon, Mr Satit will meet the representatives of officials concerned towards the encroachment of the Koh Chang area to find solutions over this issue at the district office. In addition to this, Mr Kanpetch said that all necessary information and the guidelines in solving this impasse are prepared to be proposed to Mr Satit during his visit.