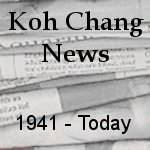 6 September 2010 ( Manchester Evening News )
< A travel article with no detail at all but at least the author got a free holiday in Thailand out of it >
Thailand has it all, mouth-watering food, jungle adventures, breathtaking natural beauty and romantic beaches. All of that coupled with the hospitality of the locals means that it is a favourite with jet setters and backpackers alike.
However, setbacks such as bird flu, volcanic ash and political unrest have hugely affected its tourism trade. The recent riots that took place mainly in Bangkok culminated in a travel warning being extended to the whole of the country, resulting in hotels in the capital being less than 30 per cent full.
With the warning freshly lifted by the UK government, I flew to Thailand with a slight feeling of unease and uncertainty. My stay was planned so I could get a sense of Thailand and all it has to offer. First stop was Pattaya, known for its seedy bars and city vibe. But as with most places, if you scratch the surface, you can find a different story.
One of my trips was to The Sanctuary Of Truth, not a real temple as such, but still a place of contemplation. This building is made purely from wood and is a labour of love for a local businessman and his family. The sanctuary is broken up into areas that embrace a mix of elements, religions and traditions. Sixty two local wood carvers whittle away everyday in the hope of preserving Thai knowledge within this building. It's been nearly 30 years in the making and won't be completed for about another 20 years.
When it comes to dining out, nothing compares to local knowledge, so after chatting to the ever-so-helpful staff at the hotel, we booked into a restaurant called Suttangrak. It's slightly off the beaten track, but this open-air restaurant overlooks the sea and was packed out with locals, always a good sign. We feasted on curried crab, sweet and sour fish, crayfish and lobster. I noticed that the locals shunned the usual Thai beers and went for Chang and as it is more potent, it certainly hits the spot.
I decided to take in the delights of as many massages as I could squeeze in – Thai people are, after all, masters of this particular art. My first experience was a full body massage in the hotel. This was relaxing from start to finish, a chill-out area, green tea and snuggly towels, everything you expect from a good spa.
However, if you want to be a bit more authentic with your treatments, then head to the beach and for about a fiver you can have a full foot and leg massage to the accompanying sounds of nature. The second leg of the tour was a three-hour drive away and a short hop on a ferry to Koh Chang or, as it translates, Elephant Island.
I couldn't visit this island without seeing the stars of the show – some elephants. I'm wary of animal tourist attractions, so I was happy to hear that the sanctuary Baan Kwan Chang is concerned with the welfare of the elephants. The owner Pittaya Homkrailas saved the animals from local villages where they were used for logging or as a draw for tourists.
I helped bathe them, then trekked through the jungle on my new grey friend, Shurrey. Words cannot explain how amazing this experience is. This haven is funded entirely by donations and the fee you pay of 900 bahts ( £20) goes towards the upkeep of the elephants. It is worth every penny.
The end of my stay came far too quickly and I could have travelled and explored for another month.
The endearing thing about Thailand is the people and the diversity of the experiences you can have. You can dip in to the bar scene, if that's your bag, but you can just as easily take a step back and absorb the history and scenery. My experience was a mix of the tacky stirred in with the truly breathtaking and I am pleased that I didn't let the threat of political problems deter me from embarking on the trip of a lifetime.