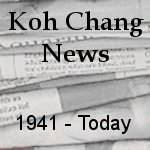 13 July (Bangkok Post)
Marine police have arrested a Thai, a Cambodian and eight Vietnamese men after finding about 190 ancient jars and pots believed to date back 400 years aboard their boat at Koh Chang off Trat.
The 12-metre-long Por Pia Charoensap was stopped after marine police were tipped off that a boat laden with ancient artifacts recovered from the Gulf of Thailand was heading for Koh Chang.
A search found 191 old containers including brown and green enamel jars, bowls, jugs and pots of various sizes as well as scuba diving apparatus aboard the vessel.
Police quoted Boonma Surisri of Trat's Laem Ngop district, who was captaining the boat, as saying he was hired by an antiques dealer to find foreign workers to collect the artifacts which were submerged south of Koh Chang on Saturday night. The Cambodian and Vietnamese men were divers hired for 500 baht each a day to retrieve the artifacts.
Officials from the National Maritime Museum in Chanthaburi believe the containers date back 400 to 450 years.
The green enamel items might have been produced in a Sukhothai community while the brown ones probably came from areas around the Noi River in Sing Buri, they believe.
The artifacts represent the art of the late Ayutthaya period. They might have been lost when a boat heading for trading areas in other Southeast Asian countries was sunk.
Mr Boonma and the other men were charged with stealing the artifacts.