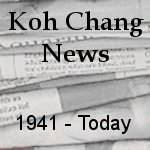 13 October 2010
Bangkok Post
The warning from the Department of Mineral Resources followed landslides on Monday which killed a Cambodian female worker and injured her husband. They were working at Little Chang resort at Had Sai Khao. The landslides blocked five sections of the main coast road, causing delays and frustration for tourists and locals on the resort island in Trat.
"This part of Koh Chang has been listed as a landslide-risk zone as it has a very steep slope," said Adichart Surinkam, chief of the department's environmental geology division. "Therefore, any construction projects must be conducted with extreme caution." Mr Adichart said the Koh Chang landslide was caused by a resort expansion. Workers removed soil from the area which reduced the capacity of the remaining soil to absorb rainwater.
He said 20 landslides had been reported nationwide this year. "Most cases happened because of man-made activities, including the Koh Chang tragedy," Mr Adichart said.
The department yesterday issued a warning to lower central provinces, Kanchanaburi, Ratchaburi and Prachuap Khiri Khan, and eastern provinces, including Trat, Chantaburi and Rayong, that there was a high possibility of landslides due to heavy rainfalls. Mu Koh Chang national park chief Chalerm Pinnimnual said minor landslides had occurred in the area several times previously. However, the affected area is outside the national park's jurisdiction. It is under the supervision of the Treasury Department.
Koh Chang officials said the island would suffer a blackout for a few more days after heavy downpours and landslides knocked down electricity poles. Officials have been racing against time to repair about 20 high-voltage power poles since heavy rains hit the holiday island from Sunday night to early Monday.
Flood relief officials and rescue volunteers have worked around the clock to clear the mud. Only one lane of the coast road was passable yesterday. Kampon Charoenkajornkul, a business operator on the island and head of the rescue team, said some sections of the road were badly damaged by the landslides. Most tourists were seen leaving the island. Local police and hotels arranged minibuses to take them to a pier where they could arrange a shuttle boat to the mainland.
The tambon Koh Chang municipality yesterday declared landslide-hit Little Chang resort and nearby areas risk zones.