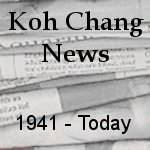 19 September 2010 ( Bangkok Post )
Frequent visitors to Koh Chang like to joke about a beach road that is permanently flooded. The absurdity of the problem is that the muddy pool of water is caused by a bitter row between two local administrative officials, one of whom blocked the drainage channel in front of the office of his adversary.
"So when it rains, water from the mountains collects on the road," said a local resident. "And since the conflict is between two influential people, nobody can do anything."
Lack of co-operation and local politics are among the myriad problems that must be solved if central governmentand the local authorities are committed to developing Koh Chang into a "world-class destination", as envisaged by the Thaksin government in 2003. That year, a public organisation called the Designated Area for Sustainable Tourism Administration (Dasta) was established to draft and implement a tourism development master plan.
Plodprasop Suraswadi, then the Forestry Department chief who was appointed to head a special committee in charge of the island's tourism development, laid out plans for specific venues such as golf courses and spa resorts on Koh Chang and its 51 satellite islands. So far, these ideas are still on paper. But public land encroachment for commercial use had started long before Thaksin Shinawatra mooted his idea.
"The launch of Dasta actually quickened the pace of land grabbing," said a retired local official, who spoke on condition of anonymity.
The official estimates that only 90 of the 200 small- and medium-sized resorts on Koh Chang have operating licences. "Occasional police raids are conducted, and unlicensed resorts are closed. But it doesn't take long for them to reopen," he said.
Although the revenue generated from the tourism industry is high _ about 700,000 tourists visit Koh Chang and spend about five to six billion baht annually _ environmental damage through habitat loss is usually not counted.
"In the last two decades, Thailand's tourism sector has been developed economically at such a fast pace that environmental deterioration is threatening the sustainability of the sector," said the non-profit German global co-operation agency GTZ, adding: "Climate change is also threatening natural resources."
But the tourism sector also has great potential to contribute to climate protection, according to GTZ, which has teamed up with Dasta to promote climate-friendly tourism on Koh Chang. The project, titled Dissemination of Experiences with the Implementation of Climate Protection Policy in Nature-related Tourism, started in 2009 and runs until 2011.
"Two key elements of the programme are community-based management and carbon footprint. From our study, the distribution of carbon dioxide-equivalent emissions from the tourism industry on Koh Chang and its satellite islands is 47,835 tonnes per year, or 0.2% of the annual carbon dioxide emissions for the whole of Thailand," said Poom Pinthep, manager of GTZ's climate protection project.
"If this trend continues, the average temperature in the Koh Chang archipelago may increase significantly, resulting in sea-level rises, coastal erosion and damage to the tourism industry," he added.
Meanwhile, hotels and local communities are realising that they have to start taking their impact on the environment more seriously. Villagers are taking an active role in protecting mangrove forests and reducing land and water pollution by switching to organic farming, rubbish separation and eco-friendly wastewater treatment methods.
"Our way of life depends on nature, so we must protect it," said Janya Kittiwiriyawong, deputy chairwoman of the Southern Koh Chang Sub-district Administration Organisation.
At the village of Salagkok, fishing families are earning extra income by organising mangrove forest tours for visitors.
At Koh Chang Primary School, a rubbish bank has been set up for students to bring used tins, bottles and paper for sale.
Leftover food is processed into organic fertiliser, while other solid waste is pressed and transported to a landfill on the mainland of Trat province.
For their part, hotels in Koh Chang are now joining the Green Leaf Foundation, which has established a nationwide classification of environmental standards for Thai hotels and has helped hotels and related businesses to better respond to environmental development and protection.
The Green Leaf Foundation's programme certifies hotels according to the level of their efficiency in managing energy, the environment and other natural resources.
Each participating hotel conducts an environmental audit, which is then verified by an independent team that will report their findings to the foundation's board.
According to the audit's results, a number of Green Leaves (from one to five) will be awarded to each hotel. The audit is reassessed every two years.
Despite these positive developments, Bangkok-based officials and environmentally-concerned locals are still worried about the unregulated land use on Koh Chang.
"Law enforcement is lax when it comes to land use," said an official at the Ministry of Natural Resources and Environment, who had conducted research on the island.
Even though Koh Chang is a specially designated area, the Tambon (sub-district) Administration Organisation (TAO) still has authority over the area under its jurisdiction, he said.
His view is shared by a local official, who blames the slow progress of Dasta's work on the illegal occupation of several plots of public land where infrastructure projects are planned. Building of wastewater treatment facilities has been delayed because Dasta cannot find land for them.
The absence of land planning is also a major drawback for the island.
The problem is glaring on the road running parallel to Sai Khao Beach, on the western side of the island. Facilities are varied, catering to many tastes. "It's chaotic _ there is no building code to harmonise buildings with the natural setting," a local journalist said, as our van drove past a row of Pattaya-style beer bars, empty plots of land, roadside shacks and ugly shophouses.
A visitor coming from the eastern side of the island may not realise that there is a beach to the right of the road, as it is hidden by rows of shophouses and buildings.
"Many people here, as well as investors, don't realise what a beautiful island we have. They continue to over-exploit its resources for a quick profit, many with no concern for the environment," he said.
"If they can't even fix the flooding problem," he added, "how can they help transform this island into a world-class destination?