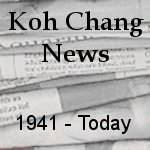 Bad experience with resort boss on Koh Chang
November 29, 2010 ( The Nation – Letter to the Editor)
I booked five days in Koh Chang on Thursday November 11. The travel officer at Siam and Smile Travel insisted on booking me at the O… Resort. I told him six times I wanted to stay at White Sands Beach and be within walking distance of the beach.
[Later] the [resort boss] approached from behind and whacked me across the back of the head. He said "Leave now" and held me in a headlock and shoved me towards the door, leaving all my stuff, including passport behind. I fought back and bit him to secure my release. All the O… Resort staff attacked me on his instruction "Get her on the floor." He had local police take my passport, without charg[ing me], because, as he stated at the police station, he was scared I would write about him on the Internet.
Bailan Bay residents said "You are not the first tourist he hit, and you won't be the last." Another resident said the owner of O… Resort pays huge commissions to travel agents to book people into his hotel. I was referred tripadvisor.com and read the violent experiences of other victims of this owner. I was without accommodation for a night, as this man had me removed. I had no passport and speak no Thai. I was carted around the island by the police and lost 24 hours of freedom. This family are not suitable for the tourist industry. I reiterate the message on the website: Do not stay there, it is dangerous for women to stay at the O… Resort. I have many photos of my bruises.
Erin Meehan, New Zealand
(The owner of this resort isn't Thai and there is only one resort beginning with 'O' and located in Bailan.   If you want to know which then   a quick Google search or checking out the worst rated resorts on Koh Chang on Tripadvisor should give you the name.)