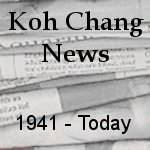 February 28, 2010
Koh Chang administrators have launched efforts to promote eco-friendly and anti-pollution practices amongst residents of the popular island destination.
Koh Chang Mayor Sarun Jirungsri disclosed today that littering and garbage has become a major problem for his island, prompting municipal authorities to respond by initiating a promotional campaign seeking to instill a sense of environmental responsibility amongst island residents. Part of the promotion will be an activity in which citizens who properly separate their household waste can trade the garbage for cloth bags.
The project will continue throughout 2010 with 346 bags already handed out. Student volunteers have also been dispatched to teach and hand out fliers on better waste disposal practices. Tourists visiting the popular island are also being urged to help preserve its many natural charms.