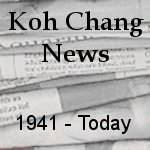 23 August 2010 (NNT)
The Tourism Authority of Thailand (TAT) has set up a tourism stimulus campaign with activities that help promote Ko Chang Island as health and wellness travel destination for working women.
Following the launch of the "Lady Journey" campaign, Deputy Director General of the TAT Trad office, Kiatipong Kochawong disclosed that the campaign had targeted to promote tourism among working women who seek holistic retreats for body and mind.
A Number of celebrities with different working lifestyles have been selected to travel to the 10 destinations across Thailand, including Ko Chang, Thailand's second largest island in Trad province.
According to Mr Kiatipong, a selected group of women in the Health Lady category is scheduled to make their journey to the island for 3 days/ 2 nights from 8 to 10 October 2010.