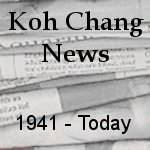 August 27, 2010 ( TTRweekly )
Attempts to promote Ko Chang Grand Sale 2010 during the so-called green season are faltering as the host organisation fails to identify participating resorts and its promotion lacks detail.
The sale was supposed to kick off 1 August and end in early October, but organisers, a month into the campaign, have still to identify discounts and benefits.
Even on its official site called kochangbusinesscenter.com, very little detail is provided for consumers to make a booking.
When pressed for details, the organisers provided a list of monthly themes. The single faxed sheet stated: In August 'Take Mom to travel on Mother Day' in September 'Beautiful Natural, let's travel to Ko Chang' and in October 'Fresh seafood, let's have fun with Islander'.
According to the hosts, Ko Chang Entrepreneur Association, there was a shortfall in budget needed to promote the campaign, which was initiated by the private sector. The project also failed to gain the attention government agencies.
The official website lacks back-up content to support the announcement, while efforts to contact the promotions officer to obtain a list of the benefits and participating resorts failed to gain a response.
A few hotels on the island reached their own conclusion on the campaign's worth. Amari Emerald Cove, Aiyapura Resort Spa and AANA Resort & Spa joined the Pattaya Grand Sale instead.
However, Pattaya's organisers had their own headaches gaining consumer attention. They were in Bangkok, last week, on a belated trip to promote their own grand sale promotion nearly a month after its launch. The resort's mayor and tourism officials set up shop in a city shopping mall in the hope it would drum up consumer interest for the last remaining month of the campaign.
Ko Chang Grand Sale 2010's original aim was to attract more tourists during the low season. Despite the poor outcome, the island's association says it will have another go next year.