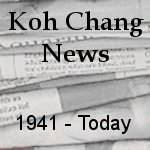 The Nation 3 August 2010
Floods hit several provinces after heavy downpours yesterday – and the Meteorological Department warned on its website of more heavy rain, strong wind and large waves.
Abundant rain and isolated heavy to very heavy falls were likely over all parts of Thailand, the weather bureau said.
Five schools were forced to close for the day in Chaiyaphum in the Northeast after floods inundated roads, leaving vehicles unable to move. The roads were 50 centimetres under water after heavy rainfall deluged the area throughout Sunday night. Large water pumps were used to drain water from the town.
Bungalows on Samet Island off Rayong province were damaged by flash floods. Nonthacha Phlaiwan, the owner of Tarn Tawan Resort on the island, said six of her bungalows were damaged and heavy streams of water had prevented staff from clearing objects out of buildings. Flash floods also ruined the landscape of the nearby beach, she said.
Suthep Ruenthawin, from Rayong's Disaster Prevention and Mitigation Office, said officials were preparing equipment necessary to help and evacuate people affected by mudflows.
Traffic on Chang Island in Trat province was congested as floods inundated many parts of the island. Water levels were between 20 centimetres and one metre.
The road in front of the Dusit Princess Hotel on the island was one metre under water and authorities had used trucks to pull vehicles unable to move from flooded areas and evacuate people.
Landslides had reportedly blocked roads in Bang Bao on Koh Chang. Village heads near those roads and rescue workers were keeping an eye for possible damage to local homes also.
Meanwhile, Mae Hong Son Provincial Disaster Prevention and Mitigation Office warned residents in every district to monitor and brace for possible flash floods and mud flows until tomorrow. Some 89 "red zones" were at high risk from flash floods and mud-flows, including Pai district – the popular holiday destination, the office head Theerayut Chandisthawong said.
Flash floods hit tambon Pang Moo in Mae Hong Son town on Saturday, but the situation was back to normal, he said.
In Chiang Mai, 900 villages in 25 districts were at risk of flash floods and landslides. Authorities said residents in the "high-risk" village of Yang in tambon Mae Ngon in Fang district would stage a practice drill on August 11 to prepare for such crises. Flash floods and landslides hit the area badly in 2006.