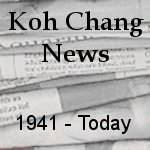 Pattaya Daily News – 14 February 2014
A Russian male tour guide fell from a 3rd floor balcony of a well-known hotel on Koh Chang Island. The police found traces of fighting in the room which was being used by a female tour guide of another company. The police rushed to the scene.
TRAT – February 13, 2014 at 8.30 a.m. Pol.Capt. Banjerd Krajarngsaeng (Investigation officer of Koh Chang police station, Amphur Koh Chang, Trat province) was notified that there was a male foreign tourist who had fallen from a 3rd floor balcony of room no. 305 at the Anchaleena Beach Front hotel (Koh Chang Grand Laguna), Ban Khlong Kloy, Moo 1 Tambon South Koh Chang, Amphur Koh Chang, Trat province so he rushed to inspect at scene together with the tourism police 6 (Trat) and the volunteer officers of Boon Chuay Luea Association of Trat province.
At the incident the officers found the corpse of Mr. Ree On, aged 27, Russian nationality, who was a tour guide .He was naked in a pool of blood and had suffered a fractured skull and a broken neck.
The officers went to inspect room no. 305 on the 3rd floor and found Miss Yuria Zuvar, aged 24, who is a Russian tour guide of Orcandit Tour Co., Ltd. in the area of Pattaya city, Chonburi province, but she could not communicate with the officers as she could not speak English so the officers had to let the interpreter translate for them. Miss Yuria claimed that she didn't know anything about this incident and didn't give any information to the police. Upon inspecting in Miss Yuria's room the officers found traces of fighting. The furniture and objects in the room were dispersed all over floor and the glass window was broken with a hole about the size of the deceased. The officers assumed that before incident occurred they might have been fighting which ended in Mr Ree falling through the window where he fell to his death.
Upon questioning the hotel staff the police perceived that Mr. Ree On was a tour guide of Discover Tour Co., Ltd. and brought tourists form Pattaya and stayed at room no. 318. The hotel staff also told the police that some Russian tourists in the tour group told the staff that they saw Mr. Ree On going into room no. 305 late at night on February 12, 2014 which was the room of Miss Yuria Zuvar (the female Russian tour guide) then in the morning they were told he was dead. Initially, the police of Koh Chang police station had coordinated with the officers of Forensic Police Division to come to collect all the evidence at scene and will inform the Embassy of the Russian Federation in Thailand about the incident.