The Weather in Cambodia & When to Go
The good news is that there is really no wrong time to travel to Cambodia. The temperatures will be around 26-35°C (79-95°F) year round. However, the country has a monsoon climate that results in two distinct seasons – a Dry season and a Wet Season.
For most people, the best time to visit Cambodia will be during the dry season months. This typically lasts from early November through until late April, and sees very little rain. At this time of year visitors can expect the weather to be hot and sunny almost every day. Unsurprisingly, it is also the busiest time of year for tourism.
Early May heralds the start of the wet season. Between May and October the humidity will rise and it will rain most days. 75% of Cambodia's annual rainfall will occur during these months. Great if you are a farmer. Not ideal if you planned a beach holiday. However, the rain also rids the dry season dust. Rivers and waterfalls are at their best and the fertile countryside is lush.
Towards the end of the rainy season the Tonle Sap, which is the largest freshwater lake in Southeast Asia, fills up and comes to life.
What are the Best Months to Visit Cambodia?
December, January and February are the three best months to visit Cambodia. Tourists are guaranteed blue skies and hot, but not too hot, temperatures. With daily highs around 30°C (88°F). Nights can be cool at this time of year, especially in January, so bring a thin fleece or sweater with you.
Travel anywhere in the country is possible at this time of year. Seas will be calm and the islands, verdant after the rainy season, will be ideal for visitors in search of a beach vacation.
March and April is still usually dry. With maybe some rain showers or overnight thunderstorms caused by the increasing temperatures. March and April are the summer months and temperatures rise, this is especially noticeable in the flat arid plains around Siem Reap. Expect daily highs of 35°C (95°F). Be prepared and bring plenty of sunblock, a wide brimmed hat or sun umbrella if you're exploring the temples at Angkor Wat. There's very little shade there.
The southwest monsoon begins in May. During the first couple of months, May and June, the weather will still be very hot and rainfall will be limited to occasional daily showers or overnight downpours. Frequent heavy rain isn't common.
The flipside is that during this period there are far fewer visitors. Prices are cheaper. Temples aren't crowded. The air is clear, free from the dry season dust and haze. It's an ideal time to visit for photographers.
July, August and September bring more prolonged heavy rain to most areas of the country. Remote districts can be cut off as dirt roads get flooded or are washed out. Temperatures will dip to around 25 – 27°C (77 – 84°F). Visiting Cambodia at this time of year is a lottery. With some good luck you'll still get plenty of sunshine and dry days, but that isn't guaranteed. You're more likely to spend half your day sheltering from a tropical downpour and trying to avoid knee deep puddles on potholed pavements and roads. Expect some torrential rain in Sihanoukville and other coastal towns.
As October rolls around the rain will begin to die down. Visitors should still expect some wet weather but there will also be plenty of blue skies. By November the dirt roads and flooded fields will be drying out, travel to outlying provinces will be possible again and most days will be hot and sunny.
This also makes November a great month to visit in order to avoid the main high season crowds and avoid the red dust that covers everything during the high season months. Plus the annual water festival is held in November. It is celebrated over three days with live music concerts and dragon boat races on the Mekhong river in Phnom Penh.
The Best time of Year to Visit Angkor Wat and Siem Reap

Deciding on when to visit Siem Reap can be a tough choice. On the one hand you can go when you're guaranteed great weather. From late November through until the end of March the skies will be clear and there will be very little rainfall. The downside is that there will be masses of other visitors. The temples can get too busy and long queues form with visitors fighting for the best sunrise or sunset photos.
If you plan to visit during the dry season, then aim for November to mid- December or from mid-February onward. Then at least you'll avoid the peak season for tourists.
April and May are quieter, partly because there will be some rain. But mainly because the heat can be intense. If you aren't used to spending 8 hours a day on your feet in 35°C (95°F) temperatures with little shade then this might not be the ideal time to visit. And it definitely isn't the best time to visit with young kids or elderly family members.
The remainder of the rainy season can be hit and miss. You'll never know how much or little it will rain each day. The good news is that the temples will be fairly quiet, which is great. But outlying temple sites may become difficult, or even impossible, to reach.
Dirt roads quickly turn into mud baths which makes cycling around the temple sites an tricky and dirty experience. When you do enter the ruins, you'll be sloshing around in ankle deep water and will have to take great care when clambering over and around slippery stone steps and walls.
With all that in mind, I'd recommend visiting Siem Reap in the shoulder season. Meaning November or March the fringes of the dry and rainy seasons. If the heat is a big factor for you, then go with November as it will definitely be cooler than March.
Plus in November the Tonle Sap will be full of water and a trip there from Siem Reap should definitely be on your itinerary. (By March the lakes waters will have subsided and many areas of the lake will be dry, leaving the stilt villages high and dry. )
If you visit during either of these months the weather will be good, they'll some rain but nothing that would ruin a vacation. And, more importantly, crowds at the main temples shouldn't be too bad and if you decide to explore further afield, there won't be many people at Beng Melea, Banteay Srei or Phnom Kulen.
Average daytime high temperatures in Siem Reap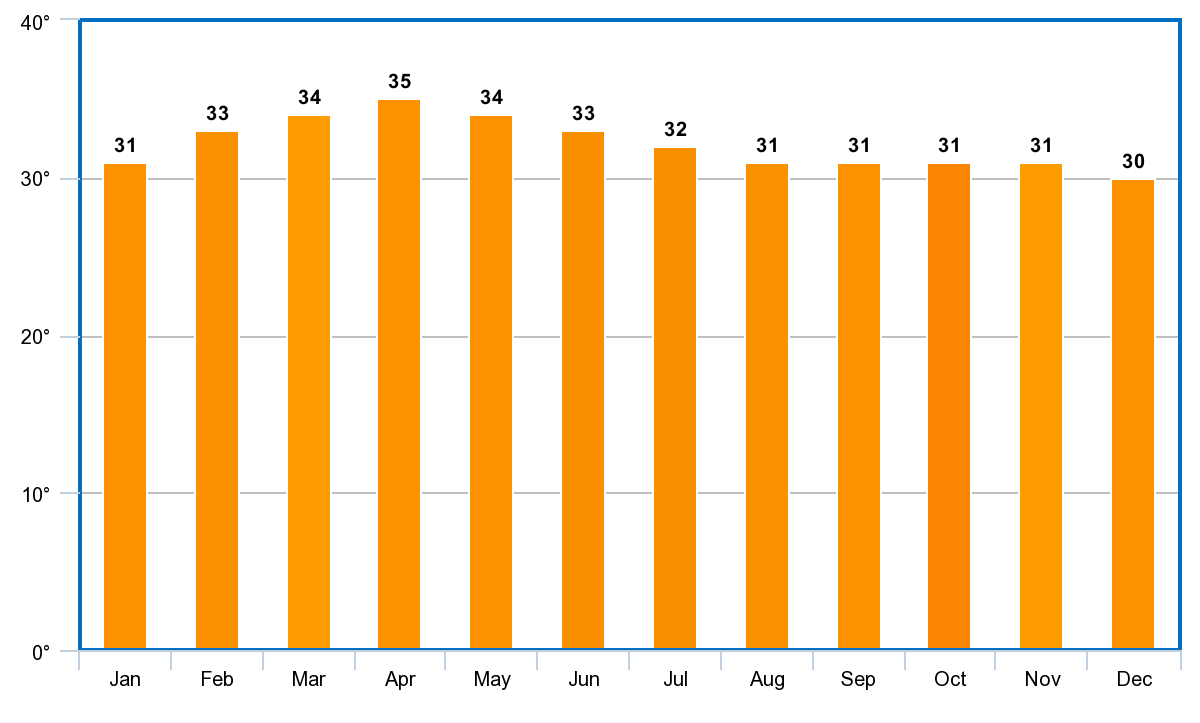 Average rainfall in Siem Reap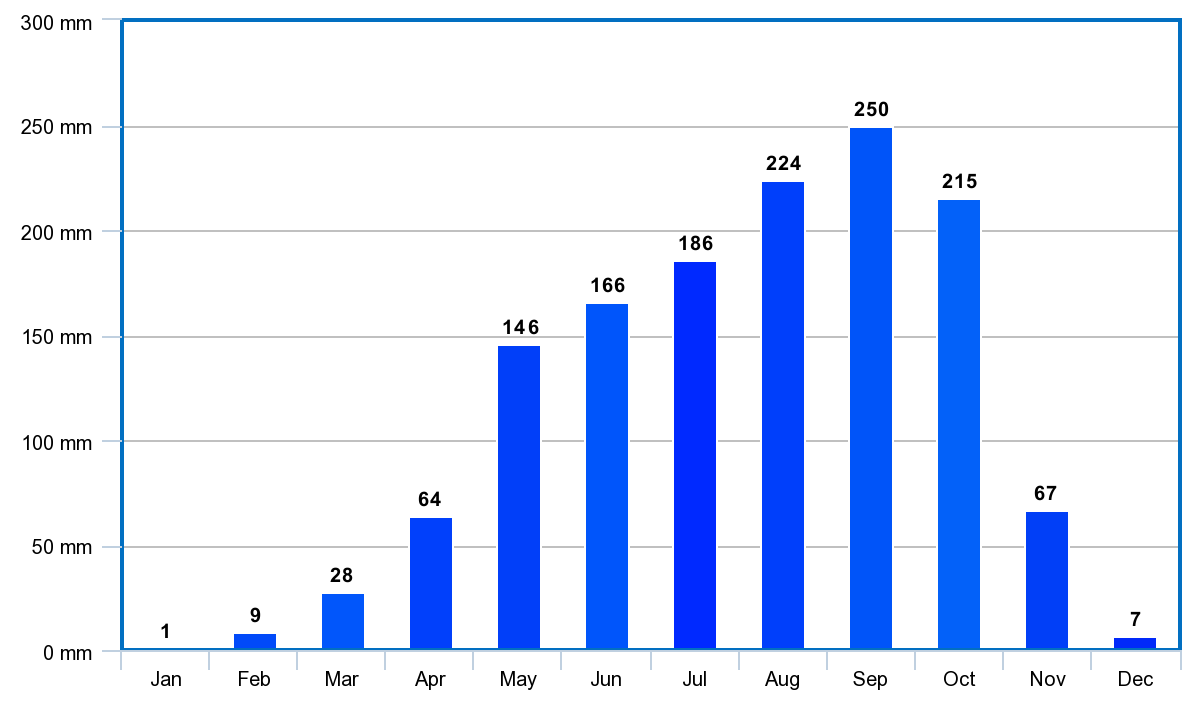 The Best time of Year to Visit Phnom Penh

Cambodia's charming capital Phnom Penh is largely considered a year-round destination. Like elsewhere, the dry season months of November to February are the best time to visit if you wish to avoid the rains and humid conditions. Though it's usually warm regardless of the time of year.
Rainfall peaks in September and October so avoid these months if you hope to get out and about.
Average daytime high temperatures in Phnom Penh
Average rainfall in Phnom Penh
The Best time of Year to Visit Sihanoukville & the Islands

Islands and coastal areas are always cooler than inland regions. And so Sihanoukville and nearby islands of Koh Rong and Koh Rong Saloem enjoy a more temperate climate. During April and May the temperature never gets too hot which is great.
However, unlike Siem Reap and Phnom Phen which are easily accessible during the rainy season and with plenty of things to do, there's not much to do if you're stuck on an island in the pouring rain. And boat services to the islands can be irregular or often interrupted by bad weather.
Many small resorts, bars and restaurants will close during the low season. Seas can also be rough, even if the sun is shining. So visiting the area between June and October isn't recommended unless you really want to get away from it all and have a few good books to read.
Therefore, I recommend visiting this area of Cambodia between November and May, in order to get good weather and enjoy your time on the beach to the fullest.
Average daytime high temperatures in Sihanoukville
Average rainfall in Sihanoukville
Summary of the Weather in Cambodia
Wherever you go in Cambodia expect sunny skies from November to February. From March to April they'll still be plenty of sunshine but also some rain.
The southwest monsoon lasts from May to October. Plenty of rain will fall across the country during this period. September and October are the wettest months in general.
I recommend November as the best month to visit. The weather will be pretty good, especially later in the month.
All activities, trips and tours will be running. Tourist attractions such as Angkor Wat, won't be too packed with tourists. Visitors can grab get some good fringe-season bargains on hotel rooms. The islands near Sihanoukville will be lush and the sea will be clear and calm.