Are there Beaches Worth Visiting near Bangkok?
I often get asked for recommendations about places to visit other than Koh Chang. And one of the common requests is for ideas for beach resorts to visit that are close to Bangkok. Within a couple of hours of the capital.
I've seen a few guides to the best beaches near Bangkok but most of them seem to ignore a simple fact . . . the beaches they list aren't near Bangkok. It's quite obvious that some articles have been written by people who haven't even been to Thailand, let alone visited beaches here.
One of the articles that pops up in a Google search even lists Koh Tao and Koh Phi Phi as having the best beaches near Bangkok. True those islands have lovely swathes of sand. But as they're both in the south of Thailand, that's useless for anyone who actually wants to find some real information.
Likewise, although Koh Chang, Koh Mak and Koh Kood have great beaches, they're several hours door to door from Bangkok city centre. So unfortunately, they're also excluded from my list.
Also, no Koh Si Chang on the list. Despite it being the closest island to Bangkok. There is a good reason for this. It's severe lack of sand.
I've seen it mentioned on other people's recommendations. But it's not a place to visit for a beach holiday. Sure, there are some stony areas by the sea and a couple of slivers of beach, which are often littered with debris from the tankers moored offshore, but nowhere you'd really look forward to spending time in a deck chair.
That being said the island does have some interesting history and it's fun doing an island tour in a 'skylab'. To save you Googling that . . .
So, here we go. Let's get into my list of the best beach resorts near Bangkok.
I'll start with five popular beaches near Bangkok and then list six more which aren't as well known. These are better if you're looking to escape from hoards of foreign and Thai tourists.
Locations of the Best Beaches near Bangkok
Five Popular Beaches Near Bangkok
From Bangkok you can choose to head southwest or southeast to get to beaches on either side of the Gulf of Thailand. The east coast of the Gulf is lined with long windswept beaches. The two nearest are Cha-Am and Hua Hin. Head in the opposite direction and you'll come to the popular beach resorts of Pattaya and Jomtien.
There are also good beaches on a couple of popular islands, Koh Larn, near Pattaya and Koh Samet.
Hua Hin beach
Heading south from Bangkok, past Cha-Am beach (as it's not that attractive) Hua Hin has long been one of the most popular beaches for weekending Bangkokians. This is a long, windswept stretch of sand. And probably best known nowadays as a great spot for both kiteboarding and also hiring a horse to ride on the beach.
The beach runs for several kilometres and is lined by resorts, condominiums and seafood restaurants. The least developed area is at the far north, this is a private stretch of sand near Klai Kangwon palace, which was used regularly by King Rama IX. There's a heavy military presence in that area.
Hua Hin can get packed at the weekends and holiday periods, but the beach never seems too busy. Mainly because of its size. There's always plenty of space for an impromptu football match, game of frisbee, picnic or sunset run along the fine sand.
If you are in Hua Hin and want to visit quieter stretches of beach, you don't have to travel far. Both Khao Takiab beach and Suan Son Pradiphat beach are quiet beaches about 10 – 15 minutes drive from the town. If you want more peaceful spots then these are the best beaches to head to.
The best time to visit is during the week, as the town always fills up on Friday & Saturday night. As for the best hotels in Hua Hin, there are far too many options to choose from. Check out listings and choose one in your budget.
Pattaya beach
Pattaya is an hour and a half drive from Bangkok and has grown into a major seaside resort. Although most Western visitors associate the town with the bar and nightlife scene, there is far more to Pattaya than that. Starting with the 4km long crescent beach, which his now looking better than ever. In recent years the beach has been cleaned up and expanded artificially. This was to make it wider at high tide.
As of late 2020, the beach certainly does look great and the water quality is the best it has been in many years.
Of course it's still not a beach where many people swim – due to the sheer number of jetskis and speedboats operating off the beach. There are sections reserved for bathers, but, for most people the beach is there for sunbathing and strolling on.
No resorts are actually beachfront on Pattaya beach. The sand is separated form the resorts by the busy Beach Road. The beach itself is lined with palms and shady beach restaurants and deckchairs for hire. Whilst Beach Road has undergone various improvements, the latest being the addition of a promenade where locals and tourists can stroll, hang out or jog in the shade.
The northern end of the beach is the most sedate. It's here you will find large resorts such as the Dusit Thani, Amari Resort and Holiday Inn. The central and southern sections are livelier, with more small resorts, condos and beer bars on the roadside.
In the centre of the beach is the large Central festival shopping mall, with the towering Hilton Pattaya built directly above it. Pattaya beach ends at the start of the lively Walking Street area, home to numerous gogo bars and nightclubs.
Pattaya isn't for everyone. But the city has a large variety of shopping plus a host of attractions and activities ranging from golf courses to waterparks, bungee jumping, go karting, cabaret shows and pretty much anything you can think of. Despite its seedy reputation, the modern Pattaya does have something for everyone.
Jomtien beach
If Pattaya beach is too noisy and brash, head a few kilometres south to Jomtien beach. This is where you will find a 6km long stretch of sand that has a much more laid back 'Thai' feel to it. The main attraction of Jomtien beach is, without a doubt, being able to enjoy a leisurely day on the sand and dining at any of the multitude of inexpensive seafood shacks that line the sand.
Although there are some larger resorts and condos here, most accommodation is in smaller guesthouses and villas. This means it doesn't attract the number of tour groups that hotels on Pattaya beach do.
There's also ample parking along the beachfront road. That plus the shade provided by casuarina fir trees, makes it a popular spot for Thai families. They come to hang out at the weekends. The kids can play on the sand and the adults can laze in the shade and enjoy a beer and cheap, fresh seafood of all description. You'll see vendors selling freshly steamed crabs or prawn tempura from around 50 Baht a plate.
Jomtien beach is around 6km long. The northern end is by far the busiest and the further south, away from Pattaya, your head the quieter it gets. The beach can be quite narrow at high tide, but there's always somewhere to sit in the shade.
Jomtien is a good spot to base yourself if you prefer a simpler beach vacation. One where you can avoid large tour groups and enjoy great Thai and Western food in restaurants that provide value for money and a friendly atmosphere. If you need five star dining, shopping malls or gogo bars on your doorstep, then the main Pattaya beach is a better choice than Jomtien beach. However, Jomtien is also within easy reach of popular attractions such as Nong Nooch Garden, Cartoon Network Amazone Waterpark, Pattaya Floating Market and Buddha Mountain. So it's in no way remote.
For accommodation, value for money is what most guests are looking for. And there's a wide choice of rooms available for budget conscious visitors. At the north end of the beach, Sunny Residence offers clean and comfortable apartment style rooms two minutes walk from the sand. Prices start at around 800 Baht or less. Not far away, Jellyfish Hostel is even cheaper and gets great reviews for it's friendliness and comfort. Towards the southern end of the beach, try the funky Beach Gallery with rooms from under 1,000 Baht/night.
Koh Larn
Koh Larn is situated a short boat ride from Pattaya beach. However, it's a world away from the bright lights of the mainland. Most visitors are daytrippers but it is possible to stay on the island. Take a look at Xanadu Beach Resort which is one of the best on the island and occupies a prime location on Samae beach. Or, for a more homely spot, Chill Lay Koh Larn is a friendly guesthouse not far from the public ferry pier. No beach, but a pleasant spot to stay and enjoy local hospitality.
There are six main beaches on Koh Larn. All have white sand, clear azure water and are picturesque. In addition they all have deck chairs for rent, inexpensive beach restaurants and public showers and changing facilities that are available for 10 to 30 Baht.
And when you are lazing on the sand, one thing you will notice is that there aren't any of the annoying beach vendors that you get on Pattaya or Jomtien beaches.
There are numerous day trips to Coral Island (as it's called in agents' brochures). However, the best plan for anyone on a day trip is to take the local boat to the island. There's no need to pay for a tourist boat. The Koh Larn passenger ferry costs 30 Baht per person and takes around 45 minutes. There are regular departures throughout the day from Bali Hai pier, Pattaya.
Once on the island either rent a scooter and tour the island for yourself. Or pay 400 Baht for a tour by tuk-tuk. The driver will take you to see all the beaches and then you can decide which you like best and he will drop you off there. My favourite beaches on Koh Larn are Tien beach and Nual (Monkey) beach. Whilst the busiest are Samae beach and Tawan beach – which is where most tour groups hang out.
Koh Samet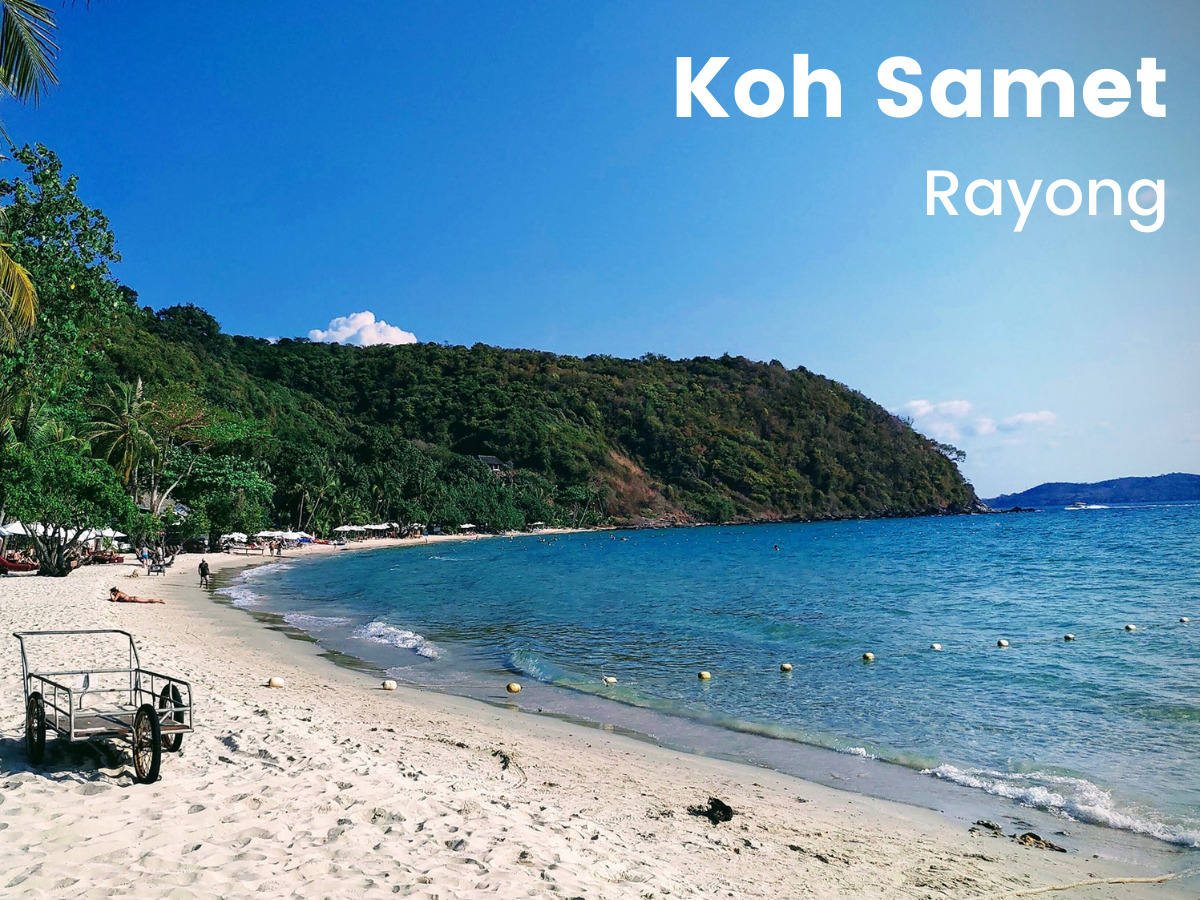 Koh Samet doesn't really need any introduction. It's well known as the closest tourist island to Bangkok. As such, it doesn't really have a low season and is invariably packed with weekending city dwellers. However visit during the week and it can be very pleasant as it is home to several stunning fine white sand beaches. This plus a wide range of accommodation, beach bars and excellent seafood restaurants make it a fun place for a few days stay.
To get to Koh Samet involves taking a wooden boat, speedboat or passenger ferry from piers in Ban Phe on the mainland. Boats run regularly from early morning until evening. Ticket prices are from 100 Baht one way. Groups and families often hire a private speedboat from as little as 2,000 Baht for the 15 minute journey.
Although it doesn't appear to be protected, Koh Samet is actually a National Park and so there is a 200 Baht entry fee for adults and 100 Baht for kids. This is levied when visitors arrive on the island.
There are several main beaches on the island. They all cater for different types of visitors. and all would rank highly in anyone's list of the best beaches near Bangkok.
Sai Kaew beach is the most popular on the island. It's also the busiest but the beach is great and the sea is ideal for swimming.
Ao Hin Khok & Ao Phai are two smaller sandy bays just south of Sai Kaew beach. These have more budget accommodation and less nightlife. Making it a good choice for younger visitors who want to chill on the sand.
Tubtim beach is popular with couples who stay in the 3* and 4* beach resorts. It's not an area for anyone wanting to party.
Finally, on the quieter west coast of the island, Ao Phrao beach attracts wealthier visitors who enjoy the privacy away from the crowds. It's ideal for a romantic getaway.
Six Less Well Known Beaches Near Bangkok
These are a few of the best, but the coastline on both sides of the Gulf of Thailand is littered with small beaches. Overall, they aren't as attractive as those on islands. But if you take the time to explore, you will be rewarded with some hidden gems.
Chao Samran beach
For most people heading southwest from Bangkok, the beach at Cha-Am is the obvious first beach that they will come to. However, there is a far quieter and also nicer beach much closer to Bangkok.
Hat Chao Samran (Chao Samran beach) is just a 15 minute drive from Phetchaburi town and under half the distance from Bangkok to Hua Hin. This is where Thai visitors, who enjoy peace and quiet by the sea head to at weekends.
It's a laid back spot that has mostly been overlooked by developers. So it still retains a sleepy charm. Don't expect high rise resorts, shopping malls and loud bars. There are several small beach resorts and a few restaurants and small beach bars but that's about it.
In the past, this beach was popular with Thai royalty. There is a legend that King Naresuan the Great and his brother, loved to visit this peaceful beach. Since that time it has been known as Hat Chao Samran, which translates to 'Royal Leisure Beach' in English. Later, in the early 20th century, King Rama VI built a palace here.
Nowadays, Hat Chao Samran is a favorite place for tourists who love its calm atmosphere. The nearby fishing village is also an interesting spot to stroll around. Overall, a very pleasant spot for a couple of days, especially if you just want to chill and enjoy great seafood. The best of the beachfront resorts is Fisherman's Resort, at northern end of the beach. This is a modern beach resort with rooms from around 2,000 Baht/night.
Bang Saen beach
Bang Saen was Thailand's first beach resort. As it's the closest beach to Bangkok, under 90 minutes drive from the city centre. However, it's not one that is popular with foreign tourists.
Bang Saen hasn't been developed in the way other beachfront towns have. For example, unlike Hua Hin or Pattaya which have seen a boom in high rise buildings and beachfront construction. So Bang Saen beach is still relatively sedate. However, it's not solely dependent on tourism. There is a huge university campus plus many factories in the vicinity. So residents are a mix of local families, students, factory workers and business people.
That all adds up to giving it the feel of a normal Thai town. Albeit one that gets packed on Friday and Saturday night at any time of the year. But visit during the week and, whilst the beach isn't the best, you will find good value accommodation, a good choice of trendy coffeeshops and restaurants and beachfront seafood shacks.
The beach is a typical Thai beach with fir trees providing shade, beach vendors hawking everything from freshly cooked seafood to novelty inflatable toys, and rows of deckchairs occupying prime spots. Out at sea banana boats and jetskis buzz around continuously at the weekend. So it's not an ideal place to swim. If you want a quieter spot, head towards the southern end of the beach, where there are always fewer people.
As the beach faces the open ocean, don't expect clear blue seas, as you'd find on a sheltered island bays such as those on Koh Larn or Koh Samet. The water is far murkier off Bang Saen beach.
Overall, Bang Saen is probably best visited as a day trip or a short one night stay, just to get some fresh air and escape Bangkok. It's a place to get some sea air, enjoy cheap food. Having so many students and factory workers in the town ensures prices remain 'normal' and not inflated for tourists' wallets.
Two events which attract a lot of visitors to the town are the annual Bang Saen Festival of Speed and the Marathon. Both are well established. The Festival of Speed turns the town centre into a mini Monaco race track and for several days streets are closed to allow sports cars and motorbikes to race around them. Likewise during the Bang Saen marathon, which is one of the best organised and popular in Thailand, attracting over 20,000 runners.
Sai Kaew beach
What if I told you that one of the best beaches in the east of Thailand was located just a 30 minute drive from Pattaya. A white sand, tree lined beach with a beautiful mountain backdrop. What's more, there was virtually no development – other than a restaurant and a few small shops. Sai Kaew beach in Sattahip is definitely one of the best beaches near Bangkok
The restaurant is very reasonably priced. No tourist prices here. Deckchairs and beach mats are available for hire for 30 Baht / day. Unlike most beaches there also aren't rows of sunshades to spoil the views. the trees provide ample shade.
Weekends are the busiest time and during the week the beach often only has a handful of visitors. Mostly people from Pattaya who know about the beach and come to escape the crowds and pollution. Needless to say motorised watersports are banned here. There aren't any banana boats or jetskis for hire.
The main downside is that there isn't any accommodation at the beach. It's very much a day trip destination. And there is also an entrance fee of 100 Baht for foreigners & 50 baht for Thais. This is payable when you enter the Chumpol Naval School, which administers the area. Tell the armed guards at the main entrance that you want to go to the beach and they will direct you to a booth where you can buy tickets. Visitors must also leave their Passport or ID card at the ticket office. The beach is open daily from 06:00 – 20:00.
Nang Ram beach
Staying in the Sattahip area, Nang Ram beach is another that's also very popular with the locals. And also overseen by the Thai navy. Meaning that the beach and surrounding area are kept immaculately clean and tidy.
As with Sao Kaew beach, there's no development at Nang Ram beach. It's just a laid back, 300 metre long fir tree lined beach that's kept spotlessly clean by the Royal Thai Navy. There is also a small entrance fee, 40 Baht, that is levied to cover the maintenance and cleaning costs of the beach.
It is possible to stay nearby in navy accommodation. However, this is more suited to weekending Thai groups who want to BBQ their own seafood and sing karaoke until dawn. To get here you will require your own transport, there aren't any motorbike taxis or taxi ranks etc near the beach.
If you're after a more 'Thai style' beach experience with a clean soft sandy beach and crystal clear water this could be for you. It's ideal for families as the sea is shallow. There's a great selection of fresh seafood and Thai food on offer and plenty of shade under the pine trees.
Mae Phim beach
If you were thinking of Koh Samet but prefer a beach which is a bit more laid back but still has plenty of accommodation plus a few small bars, then Mae Phim beach might be for you.
Mae Phim beach is located 25km east of Ban Phe. It's another of those beaches that invariably gets busy with locals at weekends but is a haven of calm during the week. The 6km long beach is lined with casuarina pines and a road runs parallel the entire length of the beach. The western end is where various developers have built condominiums and housing developments for Scandinavian retirees. Many of these apartment units are for rent nightly or weekly and offer excellent value for money.
But as you head east the beach becomes more 'Thai', the inland side of the road lined with numerous small bungalow resorts and guesthouses plus a couple of larger 3 star hotels. There are also quite a few minimarts and small restaurants, some with western food. With Villa Bali's restaurant being an excellent place to enjoy the best of Thai and Western cooking. On the beach the attraction, as you may have guessed, are the seafood shacks. Larger, more permanent seafood restaurants can be found at the far eastern end of the beach.
The beach itself is pretty good, but not exceptional. As Mae Phim is more a place to visit if you enjoy a morning run on the sand or taking a bicycle ride along the beach road. If you are visiting on holiday and plan to drive from Bangkok to Koh Chang, then stopping off in Mae Phim for the night is a good option, as it's roughly half way. And not a long detour from the main road. A pleasant spot to spend a day or two, or longer if you want to hang out with Scandinavian retirees.
Chao Lao beach
Chao Lao beach near Chanthaburi is the final beach in this list and also, at three hours drive, the furthest from Bangkok. The coastline around Chanthaburi is lined with several long beaches. The best of which is Chao Lao beach.
Chao Lao beach is best visited on week days, as Chanthaburi residents head here on the weekends for some time by the sea. The beach has clear and shallow water and it's suitable for swimming. The beachfront has been developed but the resorts are low key and the shops and restaurants are locally owned. People don't come here from other areas of Thailand to run a business. And anyone looking for nightlife or beer bars will be very disappointed.
This area is also very popular with cyclists. There is a large network of cycle lanes running along the coast roads and inland to Chanthaburi.
The downside is that as virtually all visitors arrive using their own transport, there isn't much public transport to the beach. Consequently not many foreign tourists visit this beach – or any in the vicinity. in fact, if you are staying here you'll have to The area is still natural and quiet. Many shops and restaurants are locally owned. For those who want nightlife, please don't go there. You will be disappointed.
As far as activities go, during High Season (November to April) it is possible to take a snorkelling trip or do scuba diving, and fishing trips are also very popular. But this is more of a beach just to chill out on. It's not a place to stay if you want an activity filled vacation.
There are around 20 or so guesthouses and bungalows along the length of the beach. The best is probably Sand Dunes Chaolao Beach Resort, located at the eastern end. This is also the most modern and gets consistently good reviews.
If you are driving and want to spend some time exploring the Chanthaburi area then this would be a good spot to have as a base. It's easy to head inland to the town, around 20 minutes drive away. Or follow the coast roads and discover some great views and also learn more about the history of the area. ( This part of Thailand was occupied by French during the early 20th Century and buildings and fortifications dating back to that period can still be seen in some area. )