No boat trip required. :-)
( But if you have found this page when you are looking for snorkelling day trips to the islands south of Koh Chang, you'll find all the information you need on this page of the site. )
The best snorkelling to be had is around the islands south of Koh Chang. Snorkelling tours go to pretty much the same group of small islands just off the northwest of Koh Rang. This is about an hour and a half by wooden boat from Koh Chang. You're guaranteed to see a lot of fish but it can get crowded. And not everyone wants to spend all day on a boat. Plus, if you have young kids or haven't snorkeled before, you might feel safer just going a few metres offshore. Rather than jumping off a boat into the deep blue sea.
So, an alternative, do some snorkelling off the beaches on Koh Chang. And I get quite a few emails asking me about the best place to snorkel off the beaches. However, there's one problem with this. That is the beaches are mostly sand and there's very few rocks and even less coral. That means you aren't going to see any fish. Also the west coast of Koh Chang isn't very sheltered. Waves will stir up sand. And the water off Koh Chang itself is never as clear as that 30 – 40Km south – far further from the large river estuaries and mangrove swamps on the mainland that are responsible for a lot of silt in the water.
What can you expect?
The bottom line is that it won't be as good as on a snorkelling trip – so don't get your hopes up too much. Having said that, the good news is that you will see some fish. In fact, I was quite surprised by the number of them in a couple of spots. And, as you'll see from the video, on an average day the visibility can be pretty good. However it will vary from place to place.
The three main sites are all different from each other, so it's worth trying them all and seeing which you prefer. Another big plus is that there won;t be any crowds. You might have a handful of other people swimming and snorkelling with you but there definitely won't be any boat trips
I had planned on going a couple of weeks ago when the sea was much clearer than normal, but in the end I didn't have time. So I just picked a random day, today, and hoped I'd have good luck. It was hot and sunny, there was a strong breeze blowing, but no waves or strong current. I'd say this was a typical High Season day.
Where to snorkel on Koh Chang?
There are three main locations. These are:
Pearl beach – Just a few metres offshore outside Enjoy Resort & Paradise Palms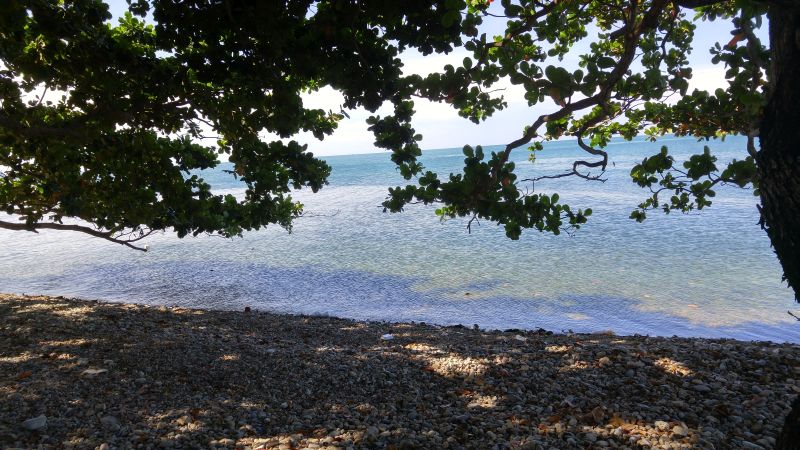 The easiest way to get into the water is park your scooter at the restaurant at Enjoy Resort and then just walk down the side to the shingle 'beach'. As soon as you start swimming you'll notice that the small stones on the shoreline are replaced by far large boulders that litter the seabed. It's quite an interesting sight in itself.
Swim south, past the front of the small bungalow resorts. You'll see a lot of seaweed growing a couple of metres or more up from the seabed. This area doesn't have that many large fish but there are a multitude of schools of what appear to be very young tiger fish darting around the seaweed.
To sum up . . . The main downside is that you need to either wear sandals or some type of footwear or tread carefully when getting in and out of the water. And that , from my experience, you'll see a wider of variety of large fish elsewhere. Overall, not as good as I'd hoped it would be as I've heard a few reports of how good it can be.
Chai Chet – The pier and rocks at Chai-Chet Resort
Park your scooter close to the small harbour at Chai Chet resort, you'll see a couple of fishing boats moored there most days. Then follow the path behind the restaurant seating in the mangroves and then the seafront bungalows. You'll come to a pier going out into the sea. It was easy to spot fish here. Just from standing on the pier. There were far more than anywhere else and the fish were right on the surface.
The downside is that as soon as you get in the water, via a ladder at the end of the pier, the visibility was very bad, only a couple of metres. I think due to the recently constructed extension to the harbour that sprung up a couple of months ago. I then moved on, continuing along the path to the rocks at the end of the peninsula. The rocks are a fun places to paddle a kayak but you can also swim through them easily.
Nice clear water here, however, sea cucumbers seemed to outnumber sea fish. That was until I swam into the middle of a huge school of neon blue fish. It was an amazing sight. They were everywhere and it came just as I was about to give up on this location. They were swimming past me for a couple of minutes – thousands of them.
To sum up . . . Have a walk on the pier, and you'll probably need a bit of luck to see a lot of fish among the rocks – the one massive school made up for hardly any others. But the views are great.
Cliff Cottage cove – On the peninsula in the south-west tip of Koh Chang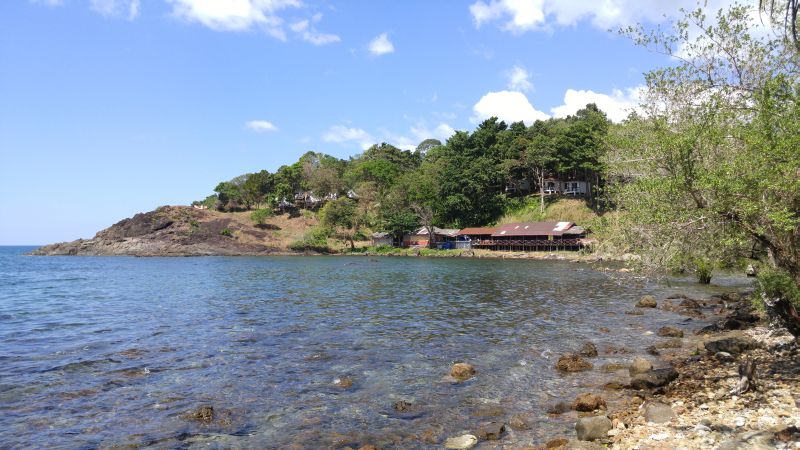 Head down to Bangbao and take the turning on the right just before you reach the village. This road takes you down to the peninsula. You'll get a very nice panoramic view of Bangbao pier from here. Park at Cliff Cottage and walk to their restaurant, on the west of the narrowest part of the peninsula. There you will find the cove.
There's a small path adjacent to the restaurant that takes you a few metres to the water. Again, care is needed getting in and out of the water, although most smaller stones have been removed and there is rough sand on the bottom as soon as you get in.
Almost immediately, it was pretty clear that this was going to be the best place to snorkel. It had large boulders, similar to Pearl beach but also far more coral than the other two locations and the visibility was noticeably better. it wasn't long before I was taking a lot of video and finding plenty to see. The best area was in the centre and to the south of the cove. Huge rocks and a lot of hard corals seemed to attract a pretty diverse range of fish.
To sum up . . . the number of fish, plus better visibility means that the cove at Cliff Cottage gets my vote as the best spot to snorkel off Koh Chang. The only downside is that it's a bit further to travel for most people staying on the main west coast beaches. but if you want to see plenty of fish without taking a boat trip the I suggest you try it.